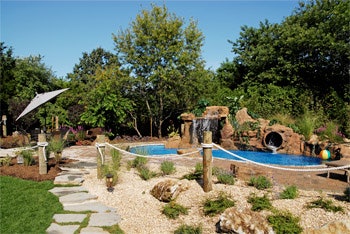 No Place Like Home
It's amazing what can be done with glass fibers — this beautiful backyard poolscape was constructed using fiberglass for the pool shell and glass fiber reinforced concrete for the water feature. The combination allowed builder Jeffrey Ingrassia to construct a backyard paradise for his family.
"I felt it necessary to install a grand feature like this one in my own backyard, not only for our family and friends to enjoy but to be a display for clients to view first-hand our creative talents and workmanship," he says. "Even though it was my own house, our level of difficulty remained high — along with my expectations."
Ingrassia employed rebar, GFRC castings, a fiberglass shell, a tube slide, fiber-optic and led lights, stain, pavers, along with plenty of concrete to produce this structurally sound backyard oasis.
The particular look of the Rico Rock waterfall and tube slide was obtained by careful staining, he says. The natural appearance of the feature, combined with the 120 gpm waterfall, completes the sensual experience.
A 1.5-hp Jandy pump was used for pool circulation along with a 2-hp Vanguard pump for the slide and waterfall, all controlled, along with the pool lighting, by a Jandy remote.
"The construction of a walk-in cave with a bench and an enclosed slide with custom cement steps allows the pool to be used by many at one time," Ingrassia says. "What makes this project unique is even though this was our first slide cave installation we made sure we set the bar high for our crew."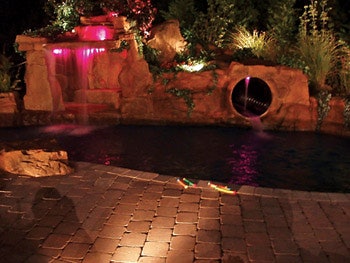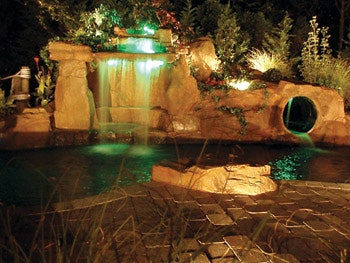 Comments or thoughts on this article? Please e-mail scottw@aquamagazine.com.
Submit your pool project for the 2012 Aqua Choice Awards at www.aquamagazine.com. Deadline is Oct. 1.