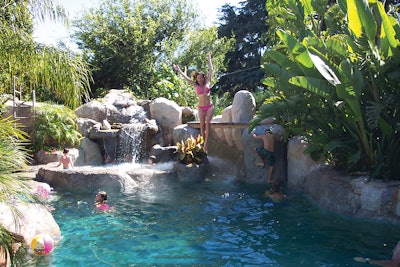 All photos courtesy The Green Scene
When talking about creating a family friendly landscape, what exactly do we mean? One way to put your arms around the question is to view the yard as an extension of the home. Inside the house, there are rooms where the whole family enjoys time together — rooms for entertaining guests and those that give kids and adults their own spaces where they can do their own thing — and then, of course, the heart of the home, the kitchen.
A family friendly backyard can serve all the same functions. It can be a place where the family and guests all feel at home, outside the home. A place where parents can play with kids. A place that becomes the hangout of choice during the tween and teen years. And, it's a place where grown-ups can have their own time, too — where they can have plenty of rowdy juvenile entertainment, or not, as the mood dictates. Creating this kind of life-changing backyard for your clients begins with a thoughtful plan, which means first identifying the activities family members want to have available outdoors.
THE INITIAL INTERVIEW: MAKING FAST FRIENDS
At the Green Scene, during the initial in-depth interview with clients, we carefully fill out a design questionnaire to zero in on their exact preferences. It's an enjoyable process that empowers them to make the most of their investment as they visualize using their yard and answer questions they never thought had anything to do with a backyard construction project.
Part of this process looks at how a family's needs change over time. It's important to make people happy today, but what about 10 years from now? A play-space designed for a three- year-old will look very different from a hangout for pre-teens and teens. The backyard should easily flex as kids grow.
For example, if a client really wants a gym-set now, think about how it could be adapted when the kids are done with teeter totters and swings. Is it a good spot for an adult-sized climbing wall, a fort or a trampoline? That sandbox area that provides plenty of entertainment during the preschool and early elementary years might also be the perfect spot for a Bocce court later on. The key to success requires both designer and client to look into the future with imagination.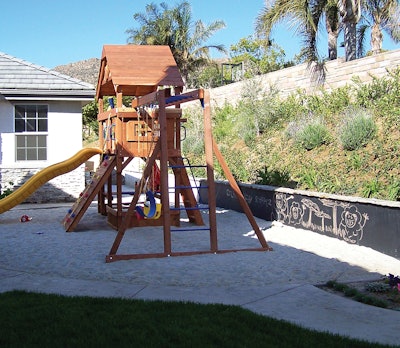 A PLACE OF THEIR OWN
Inside the house, adults and kids often have special spaces to call their own. Whether it's a bedroom, a playroom, or even a corner of the living room, kids enjoy having a spot that looks and feels like it belongs to them. Ideally, you should offer that same kid-friendly place to your clients with children — it can really create excitement in a family! It doesn't have to be big. Whether it's a full-sized playhouse with its own little yard, a sandy play area or a small child's vegetable garden, the point is to offer kids a fun place all their own. Their joy at the prospect of a place of their own can really energize the process.
Whatever the size or scope of the project, if kids are on the scene, plan to decorate the area with the whimsical look they love. It can be as easy as screening the area with a trellis or garden wall. Not only does this give kids the privacy and fort-like feel they crave, it also offers parents an out-of-the-way place to stash the scooters, the ride-ons, and the bubble mower before the adult guests arrive for cocktail hour.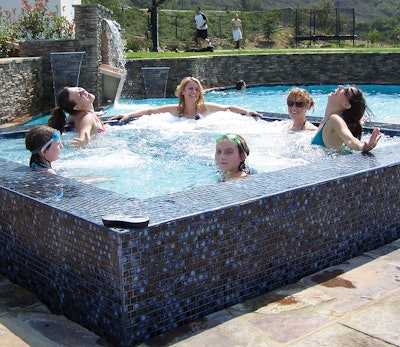 ENTERTAINING
The adult favorites — such as covered patios, outdoor dining areas and fireplaces, sound systems and TVs, and of course, outdoor kitchens — are all standard fare for creating great backyards, but as the design unfolds, consider the client's specific entertaining needs for both kids and adults. Do they typically host only small get-togethers for two or three couples? Or do they want the space to function as a venue for big, multi- family barbecues? The design should work for both everyday family comfort and easy entertaining for special occasions. If the client wants to host large groups with several families, plan for a separate place for the kids to play. One day, when your design is being enjoyed by parents with enough peace and space for a good conversation, and their kids are having the time of their lives playing Ghost in the Graveyard, someone will think of you with gratitude.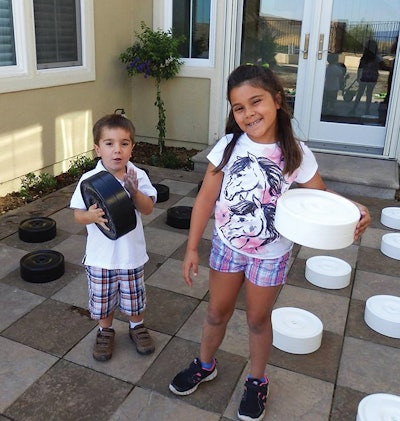 GAME ON
A family friendly yard is first and foremost designed for outdoor fun. It's a yard that draws kids and adults away from video games and social media to play outside, a big win for most clients with kids. With active fun in mind, think about the games your family loves to play — or would play if they had
the right space — and propose that space in your yard design. Whether it's a sport court (pickleball anyone?), a putting green, a hopscotch path or a stretch of lawn perfect for croquet or football. Maybe it's bocce ball, ping pong or basketball, but find out what the clients would like to play and give them the place to do it.
Sizing for each activity is readily available from a variety of sources. I'll get into that information at greater depth in the seminar at Expo. (See the sidebar on page 90 for the time and date.)
And don't forget the furry family members! Petscaping is a growing trend in backyard design. Many people consider their pets as part of the family and want to give them due consideration in the planning process. Simple details can make the space more fun for both. How about a stretch of lawn for a game of Frisbee or an agility course? A small pond for an afternoon doggy dip might be a good call, and don't forget to include an area specially designed for digging.
EVERYBODY INTO THE POOL
Finally, we get to the pool itself, which naturally appeals to the entire spectrum of family age groups because everybody is drawn to water.
The tanning or Baja shelf remains a client favorite, often fitted with specially designed furniture as well as umbrellas. They appeal both to adults, who like to luxuriate in the water, and small children who make use of the shallow water for play.
And of course, nothing provides fun for the whole family quite like a pool slide. Teenagers and young-at-heart adults enjoy larger and faster slides, while small, deck-mounted kiddy slides are fantastic for little kids. These can be easily removed once the kids have grown and replaced by an elegant water feature.
In a completely different way, grottos are popular with everyone in the client family. Adults will enjoy the privacy afforded by a grotto, while kids are drawn to the fort-like experience. (And we all know how much kids love forts.) Rock grottos and slides are natural complements, and are often incorporated into the same structure.
Swim-up bars are primarily meant for adults who enjoy the experience of consuming libations while partially submerged. Planning a swim-up bar means figuring out the size and location, keeping in mind it requires building a "dry side" as well as the bar itself, because after all, bars are basically useless without a bartender.
In-pool tables, not to be confused with billiards or snooker, with benches and/or stools, appeal to many homeowners who place a high value on social interaction.
And finally, the spa is another common backyard feature that appeals to the whole family. The soothing hydrotherapy experience primarily appeals to adults, but kids love spas, too, and largely for the same bubbly reasons — and the spa can function as an ad hoc kiddy pool. Relaxing in a spa just feels good.
TAKING THE TIME
As a designer or pool salesperson, you can use your knowledge to steer projects toward family friendly layouts that your clients are unaware of, but for which they will thank you once they are enjoying the satisfaction of an outdoor space that works for the entire household.
That satisfaction will be shared by designers knowing their creation has fostered togetherness in a client's family — a worthy achievement for anyone's work.