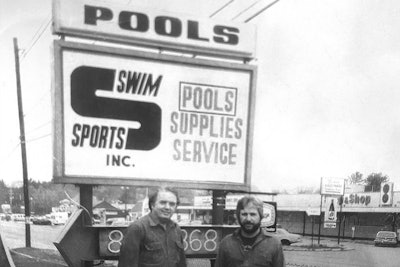 Photos courtesy Allison Caramello
After a lifetime working in the swimming pool industry, Stephen Caramello has seen it all — and then some. On the eve of a milestone birthday, he reflects upon everything he's learned and experienced over the years.
"I'm going to be 80 this August, but I'm not retiring. As long as I don't get lost on my way out of here or fall asleep at my desk," he jokes. "I want to go as long as I can go. As long as I'm healthy, which I am."
Caramello grew up in Plymouth, Mass., where he still resides with his wife of 54 years, his three children and the majority of his grandchildren. After a stint as a home improvement salesman, he worked as a partner and sales manager selling Trojan and Weather King steel wall pools, and eventually started his own business, Swim Sports, in 1976.
Back in the day, Caramello was one of the first dealers to sign on to the polymer wall pool with Latham (then known as Pacific Pools). "Between 1976 and 1977, Latham came up with the first polyvinyl pool that we are still building today," he explains. "I believe I was their first builder in New England. I was very interested in it because it was something different. I always believed, from the sales end, in trying to sell something different than what everybody else had."
Caramello has always loved selling and building pools, but what he treasures most are the relationships he's built and maintained with customers.
"The diverse number of people that I've met is unbelievable. I've built pools for gangsters, for FBI agents, just all types of people," he says. "It's been interesting, and I've made a lot of good friends."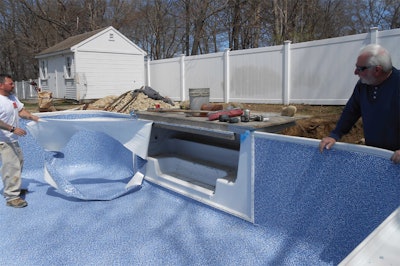 Caramello is a firm believer in the "old-school" way of approaching customer service, and this philosophy has served him well: Customers know they can count on him, no matter what. "That means a lot to me, that these people think of me that way. If they ask me to do something, or I tell them I'm coming over, or I tell them I'm going to call them, I do it," he says. "I just think you've got to give back to customers. If they need something, I'll run it over to their house for them."
"I remember years and years ago a woman called me about a pool, so I made an appointment with her," he says. "At that time, I went to her house, and I sold her the pool. And after I sold her the pool, she said, 'Do you know why I'm going with you?' And I said, 'Why?' She said, 'You never asked to speak to my husband. You dealt entirely with me and respected me.' And I always remembered that, coming from how things were done in my generation."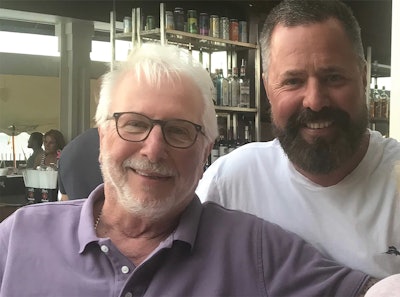 Amid all of the good times over the years, Caramello has certainly weathered some tough periods, too. "It's fine when business is good, but this is a disposable income industry. I've been through five recessions in my career…I mean, there was one year where we only built three pools," he says.
So, what's the secret to his perseverance and positivity? "I don't take things too seriously, I don't take my life too seriously," Caramello says. "I like laughing, I like having a good time. This isn't like the desk. It's a fun job to have. You're selling a product that people really want."
Fifteen years ago, Caramello passed his leadership at Swim Sports on to his son and daughter-in-law, Tony and Allison Caramello — but he still clocks in three days each week. "At a checkup a couple of months ago, my doctor asked me, 'You're still working, aren't you?' I said, 'Yep.' He said, 'Good. When you talk about work, you light up. That business is keeping you as healthy as you are, because I know you love doing it.'"
"I can honestly say that I have no regrets," Caramello says. "I've enjoyed my career. I've enjoyed my life."
---
This article first appeared in the June 2022 issue of AQUA Magazine — the top resource for retailers, builders and service pros in the pool and spa industry. Subscriptions to the print magazine are free to all industry professionals. Click here to subscribe.