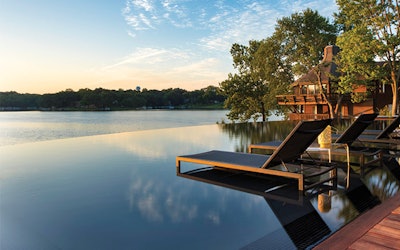 It's a simple concept. A large shallow area, usually located near the steps, where bathers can enjoy playing or lounging in a few inches of water. In their own subtle way, tanning shelves (the term we'll use in this discussion henceforth) carry significant implications for pool design and function.
As a design element, tanning shelves encompass a number of visual and ergonomic possibilities, with a surprising list of specific decisions and a handful of technical challenges. They come in a wide spectrum of shapes and sizes that, when combined with design consideration like dimensions, location, depth, footprint and finish will significantly impact how a pool is used, the way it looks and even how it's maintained.
BOTTOMS UP (LITERALLY)
Kurt Kraisinger, president of Lorax Design Group, a landscape architecture firm in Kansas City, Kan., sees tanning shelves as a standard feature.
"We propose tanning shelves for just about every project we do," he says. "I liken it to what happened in home building years ago, where all of a sudden every house had a kitchen island. The tanning shelf is like the kitchen island in the modern-day house. It's the place where everyone hangs out. It's fun, it's casual, it's convenient, it's the center of attention, it's the nucleus of everything that's going on around it. That's why we try to spin all of the activities off the 'reef ledge,' as we call it, in terms of how we organize the space and the traffic flow."
Chris Anderson, founder of Ledge Lounger and long-time designer/builder with Houston's Custom Design Pools, has seen the rise of the tanning shelf from the perspectives of both the contractor and as an innovative supplier of furniture designed specifically for tanning shelves.
Ledge Lounger has drawn widespread attention for essentially establishing its own product category based entirely on the presence of tanning shelves, and to a lesser extent beach entries, a close cousin of the tanning shelf.
RELATED: Tanning Ledges: A Fiberglass Must-Have
"One of the reasons builders like our products is because it gives them a great photo opportunity, it looks sleeker, more marketable and more interactive," he explains. "Owners like furnishing ledges because it enhances the look and gives them a way to use their pool that is comfortable and feels like a resort. It reminds them of being on vacation."
Anderson recalls that throughout his career, tanning shelves have always been there, but their origin remains a mystery.
"It might be an interesting question for your readers: Did the bubbler create the tanning shelf, or did the tanning shelf create the bubbler?" he wonders. "We know that the desire for some type of water feature led to designs where bubblers were installed in a shallow shelf because they only work in a few inches of water. Also, given that a bubbler will have to located more than just a few inches from the coping, it needs a broad step or shelf. Then you find out that your kids love playing in that shallow area where the bubbler is located, which has become the most popular spot in the pool. So, someone thought, let's make it a little bit bigger.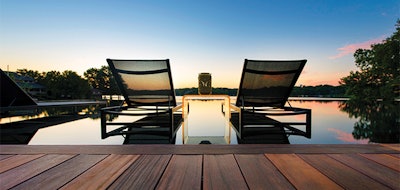 Anderson is quick to point out that regardless of how they may or may not have originated, tanning shelves are here to stay and have arguably become the most popular feature in today's pools.
"I think it's largely due to the younger demographic who are buying their first pool and have young kids or are planning a family. Tanning shelves are perfect for kids and their parents, but they can also appeal to almost everybody. That's why you see them in vinyl liner, fiberglass as well as custom gunite pools and commercial and residential pools."
Eugene, Ore., designer/ builder David Owens agrees and says he sees tanning shelves as a type of canvas where he creates uniquely striking stone and tile mosaics. "It's the perfect place to put a work of art, whether it is a crazy mosaic or something simple like a couple of turtles," he says. "It shows off the surface and invites people to interact with it. Tanning shelves — we call them sun shelves — have become my signature. It's what we're most known for and our clients love them!"
DEPTH AND DIMENSION
The depth, which typically ranges anywhere from 4 to 18 inches, is the most significant design decision.
"When we're talking to our clients about tanning shelves, we ask them to visualize themselves on vacation and then ask if they would rather stay wet or stay dry," Kraisinger explains. "Some people want to be partially submerged, while some just want to be close to the water and not get wet. They want to be engaged in the environment, but necessarily immersed in it."
"We've found there's no standard design, but you do see regional trends," Anderson says. "Builders on the East Coast tend to make them 12 inches deep, I think to avoid problems with the water freezing solid across the surface of the ledge. In much of the sunbelt they're 6 to 8 inches deep, but on the West Coast, they're mostly 12 to 18 inches deep. There's certainly no standardization, which is why we've had to create multiple products for different depths. There are different rationales: Some builders and clients simply think it's more pleasant to sit in water that's a little deeper. Others might want the shallower water to make the bubblers work, or they want to read and sit in the shade, so shallower water makes more sense."
Shallow water carries implications that go beyond bather comfort and making bubblers function. "The water is warmer," Owens says. "That's one of the aspects our clients seem to really enjoy. It's comfortable."
RELATED: A Groundbreaking Concept
The size and shape are similar issues, driven mostly by the intended use as well as the design and layout of the pool and surrounding area. "In terms of dimensions, it also depends on the client," Kraisinger says. "For commercial properties, it's all based on seating. They want to use the tanning shelf for as many chaise lounges as possible because on a hot day that's the most popular place to hang out. For residential there's the question of furniture, as well as the size of the pool and how much space they want to devote to the tanning shelf."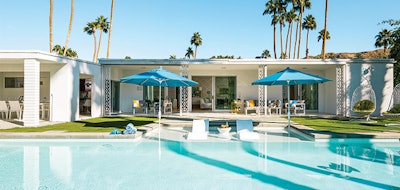 CLEANING, LIGHTING & STEPPING
The shallow depth also requires you to make some sort of accommodation for cleaning, which can be surprisingly challenging.
"A typical automatic pool cleaner cannot jump up on the ledge and clean it, and even if they could, the water is too shallow. I have a friend who just built a pool and the bubblers on his tanning ledge are actually returns instead of just bubblers," Anderson says. "So in that case, he can't control them independently from the circulation for the filter. A more common way is an in-floor cleaning system, but then you'll have these heads visible on the ledge and it's very expensive."
The most common solution? "I've seen builder's put returns on the side walls strategically placed to push water across the ledge," Anderson says. "Obviously, the shallower the water, the more stagnant the water might be if you don't have returns that move the water over the ledge or a cleaning system. You can have stagnation issues. There's also the question of what a service company will do to take care of the ledge. Do they take the time to brush it off, or do they just let it be? One way or another, you do need to make sure it's clean or it could collect debris and/or develop algae."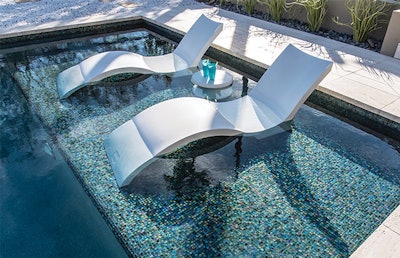 Another issue is how to light a tanning shelf. "With traditional pool lighting, they tend to be dark while the rest of the pool lights up. You couldn't really light them with halogen pool lights," Anderson says. "Now you have small LED fixtures that are perfect for lighting a ledge. It's not that difficult, but you do have to take lighting into consideration if you want something other than a big dark spot at night — and especially if the client plans on using the shelf at night."
The depth also impacts the appearance of the surface material compared to the deeper parts of the pool. "That's something you need to talk about with the client so they understand how the difference in depth will impact the color and surface appearance," Kraisinger says. "You can select darker colors where it's not so obvious, or you can use the finish material to deliberately create contrast with material that stands out, such as glass tile."
Owens adds the aesthetics can impact safety. "You want to do something that indicates the change in depth so people know where the shelf ends. If the shelf is the same finish as the rest of the pool, we'll put a border of tile so people know where they're stepping."
Because shelves are high traffic areas and by their nature wet and shallow, footing is always a key concern, prompting some designers to lean towards more high-friction surfaces like exposed aggregate.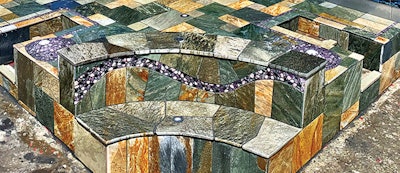 RELATED: Success Beyond the Pool
"You have to think it through," Anderson says. 'With something like 1-by-1-inch glass tile, for example, the frequency of the grout joints naturally creates friction and the tiles are not perfectly flat. If you use a 12-by-12 ceramic tile where your foot might not cross a grout joint, you can cause some major slipping hazards," he says. "When you're in a pool, in deeper water, you have the buoyancy to keep you balanced. When you're standing in 12 inches of water or less, your center of gravity is above the surface of the water and you can still slip and hurt yourself."
The importance of traction is further increased by the fact that tanning shelves are play areas for children. "We've found that when we put steps from the pool up to the tanning ledge, they will use the ledge as the place to jump back into the pool, rather than going out of the pool," Anderson says.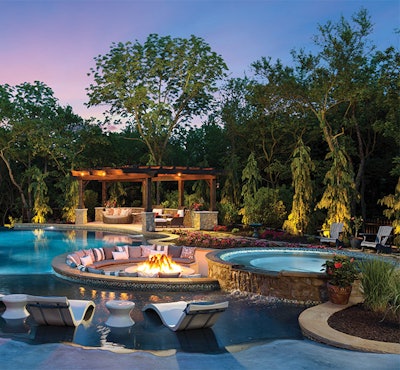 BASIC CONSTRUCTION
As mentioned above, tanning shelves exist across all types of pools, including fiberglass and vinyl liners. These days most, or possibly all, fiberglass manufacturers offer models with tanning shelves, while package pool manufacturers offer "liner over steps" features that can be added to most designs.
As is true of all pools, knowing the soils conditions influences the type of construction. "With our tanning ledges, we take the perimeter bond beam down below the frost line because with a large flat surface you could have a hinge effect with any ground movement," Kraisinger says. "It depends where you're working. Here in Kansas City, we're usually down 36 inches. In Nebraska you may be at 36 to 48. If you're in a place with extremely expansive soil, you might have to over-excavate the pool and bring it back up with compacted fill or gravel. It varies. Every condition is different and it definitely will impact the engineering of the shelf."
"From a structural perspective, they should be engineered relative to the soil conditions and other factors. It has to be consistent with best practices for swimming pool construction," Anderson says. "From a cost perspective, the less dirt you have to take out, the more affordable it's going to be to build it. At some point, if the tanning ledge is too big, there could be a fracture point if you have ground movement. We know that stair steps are points with the potential to crack, which is why bottoms are sloped and not stepped."
But he hasn't seen a problem, Anderson adds. In his experience, which includes tanning shelf discussions with scores of builders as well as educational programs on various construction techniques for his chapter of APSP (now PHTA), "I haven't heard of anyone having issues or requiring some special building technique," he says. "It's never crossed the table."