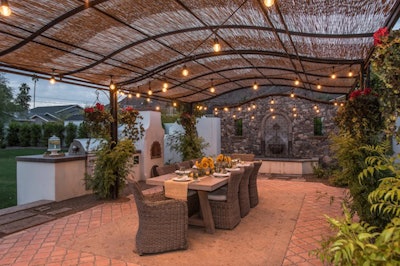 To be successful amid the outdoor living boom, it's critical for retailers and builders to stay abreast of rapidly changing consumer tastes in backyard products. To help keep your product lines up to date, AQUA has partnered with design megasite Houzz to bring you more content about outdoor living, from pools and spas to outdoor kitchens and patio furniture. Here, a Houzz expert lists trending backyard designs that keep you cool in warm climates.
Summer is all about outdoor living — if your climate allows it, that is. If you're looking for inspiring photos of outdoor rooms with ideas that might help you keep cool outside, check out the 6 most popular patio photos added to Houzz from April through June this year, as measured by the number of people who saved them to their Houzz ideabooks during that time. Where would you like to kick back and relax? Share your thoughts in the Comments.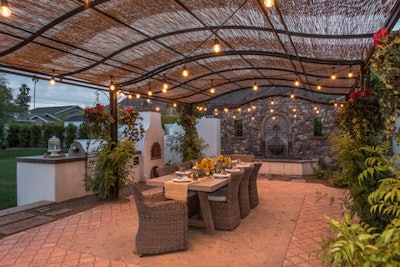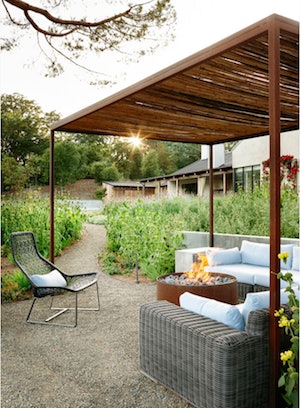 Photo by Stucco Renovations of Arizona
6. An undulating canopy of natural fiber rolls over the pergola of this Mediterranean-style patio in Phoenix, providing protection from the intense desert sun while also allowing filtered light to shine through.
Photo on right by Butler Armsden Architects
5. Satellite patios can draw people out into the garden. Adding a shade structure enhances the allure, as the patio becomes even more of a destination and place to linger. This patio in Portola Valley, Calif. features a rusted steel pergola frame and caned roof. Yellow flowers (Phlomis sp.) surround the clearing.
RELATED: Pick Your Perfect Canopy for Shade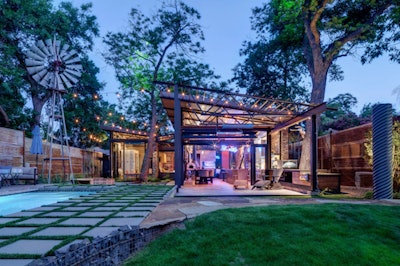 Photo below by Domiteaux + Baggett Architects PLLC

4. It might be hard to beat the heat in Dallas, but this backyard patio is the picture of cool. From the flip-up garage doors that connect the outdoor space directly to the home to the industrial shade structure and adjacent pool, these homeowners will be keeping cool, or at least having fun, all summer long.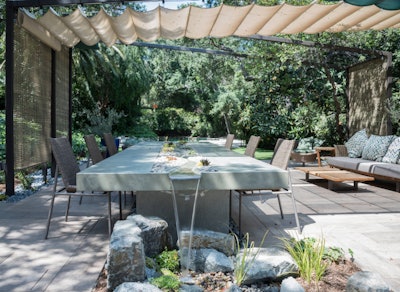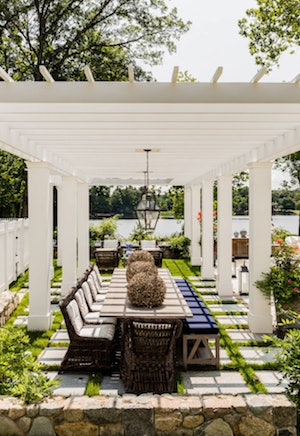 Photo by Carolyn Reyes
3. While this outdoor dining area by Pacific Outdoor Living is part of a designer showcase, and perhaps beyond what we would normally include in our outdoor spaces, the bamboo woven panels and canvas roof help create privacy and shade while the water feature contributes a soothing, cooling sound. Shade structures like this one are useful because the canvas cover can be pulled back and opened when not needed.
Photo on right by Timothy Lee landscape design
2. Meals would be a treat to enjoy while sitting at this outdoor dining table beneath a classic white wood pergola. While a uniform grid keeps everything feeling ordered, the wicker furniture, distressed wood and light cushions maintain a casual, coastal vibe.
RELATED: Bright and Coastal Outdoor Cushions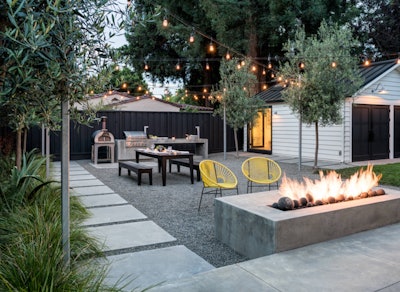 Photo below by Thueme Design Inc. - Landscape Architecture
1. In this Palo Alto garden, olive trees frame an outdoor dining space, creating pockets of shade as the sun's position changes throughout the day. The clean, geometric concrete pavers frame the gravel patio on the ground plane and are more likely to say cool on a hot summer day than a darker material would.