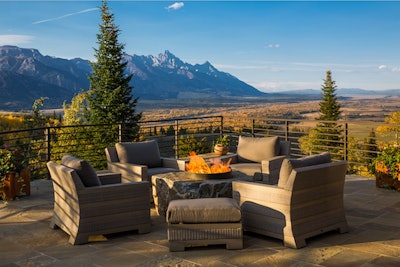 To be successful amid the outdoor living boom, it's critical for retailers and builders to stay abreast of rapidly changing consumer tastes in backyard products. To help keep your product lines up to date, AQUA has partnered with design megasite Houzz to bring you more content about outdoor living, from pools and spas to outdoor kitchens and patio furniture. Here, a Houzz expert explores recent trends in designing decks and terraces.
It's that time of year when we are anxious to get outside and enjoy that indoor-outdoor living we're always hearing about. These spaces extend the living room, dining room and even the kitchen outdoors to enjoy the warm weather. We've rounded up the deck and terrace photos uploaded to Houzz from January through March 2017 that Houzzers added the most to their ideabooks in that period. Go ahead, gather some ideas from these popular new outdoor rooms.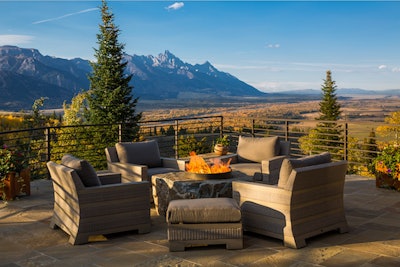 Deck 1: Photo by Zoske Construction
1. Consider Local Materials
Gauged Frontier stone from Montana is an apt choice for this Jackson Hole, Wyo, terrace because it blurs the lines between the architecture and the surroundings. With a design like this and a spectacular view of the Grand Tetons, it's easy to see why so many Houzzers are drawn to this photo. Look for local or regional materials to best blend a terrace or patio into the landscape.
RELATED: Pick Up an Outdoor Fireplace for Your Terrace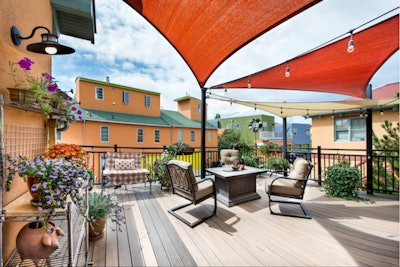 Deck 2: Photo by BARRETT STUDIO architects
2. Use Sail Shades
These versatile covers can provide a combination of shade and sunlight on a deck. Colorful options and interesting shapes enliven the exterior of a home.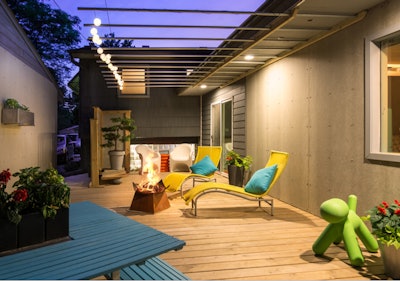 Deck 3: Photo by exactly.
3. Extend the Architecture Overhead
This modern take on the trellis accentuates the architecture of the house and provides a spot to hang magical outdoor globe lights.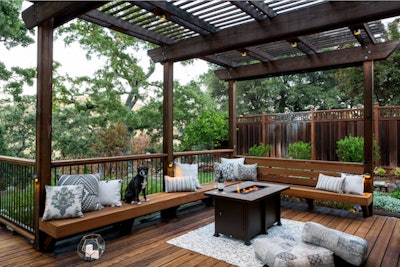 Deck 4: Photo by ilumus photography & marketing
4. Build In the Furniture
Similar to the previous photo, a substantial trellis defines this outdoor living room on the deck.
But another important trend represented here is built-in deck furniture. This can make a small deck feel more expansive than free-standing furniture and maximize your deck's seating potential. While these benches float, others we've seen have built-in storage beneath them to keep cushions clean and dry.
RELATED: Find the Perfect Throw Pillows for Your Outdoor Seating Here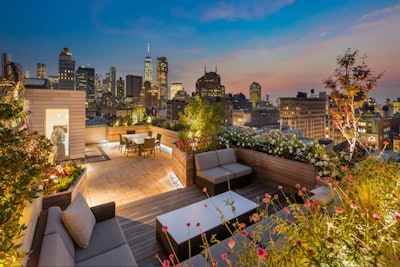 Deck 5: Photo by PHT Lighting Design Inc
5. Glean Ideas From Roof Decks
Many Houzzers are attracted to romantic urban roof decks. These spaces usually have to be carefully thought out due to limited space, weight restrictions and the desire for privacy.
On this deck, cleverly designed built-in planters provide privacy and a place for plants to thrive, and they serve as walls. Where they are cantilevered, lighting underneath provides a pleasant glow at night. You don't have to be a Million Dollar Listing, New York client to achieve a deck like this — these ideas can be adapted to a deck anywhere.
You will likely need a pro's help when planning a roof deck because weight is an important consideration when planting on one. Planters full of soil are heavy, and thus the structure beneath them must be able to support it.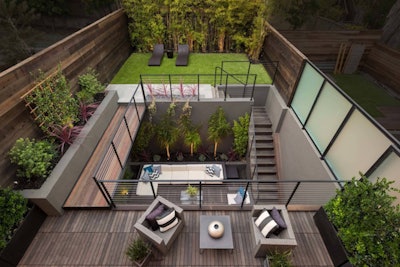 Deck 6: Photo by Kilrea Construction Inc
6. Think Tiers
If you have the space, consider building several levels for the deck. Here, it helps the transition from conversation areas to lounging areas. And this one delineates the levels even more by using different materials on the deck. Long boards emphasize the area you traverse, while a more rhythmic composition sets the tone in the sitting area and turf adds a relaxing element in the sunbathing area.