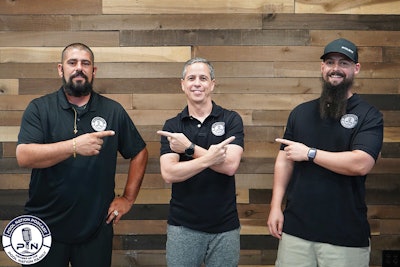 Photo courtesy Pool Nation/Edgar De Jesus
"Welcome to the Pool Nation podcast, where it's all pool talk. And we ain't talking about netting and jetting, or splashing and dashing: We're talking about becoming a nation of pool pros."
That's the slogan you'll hear each time you hit 'play' on a new episode of Pool Nation — and according to host Edgar De Jesus, it's also somewhat of a mission statement. In an industry with no shortage of podcast iterations, a push for unity and collaboration defines Pool Nation.
"Our industry sees a lot of people as competitors, right? Whether it's manufacturers, or one podcast versus the other," says De Jesus. "We don't want people in the industry to have that mentality…because that kind of blocks everybody off. If people would stop seeing themselves as competitors, it really would bring our industry together more."
Following that philosophy, Pool Nation's trifecta — starring De Jesus and fellow co-hosts John Chakalis and Zac Nicklas — bring different experiences, opinions and personalities to the table.
"We all have a different perspective… We're all really strong at something, and in the podcast, we focus on our strengths and the stuff that we like to do," De Jesus explains. "It's fun because somebody will send us a question, and we'll break it down and give a couple different points of view."
"Zach is very analytical, very driven by the business. His mentality is constantly thinking from the business perspective…And John is very passionate about bettering the industry. He's very relatable, and he kind of breaks things down into what's relatable to all of us as pool pros."
Though the guys have a studio in Dallas, episodes are usually recorded remotely. "Right now, we're all in three different places," says De Jesus. (After all, the podcast is a passion project that the hosts manage to fit into their busy pool careers.) Episode topics tend to stem from listener-submitted queries, covering everything from water chemistry to hiring to dealing with burnout. Other times, the trio will invite pool pros onto the show for interviews.
At three years running, Pool Nation recently passed the 100-episode mark. 'We always talk about which episodes are going to be our favorite. And it's really weird: It's like every time we do another one, we say, 'Okay, I think that was my favorite,'" laughs De Jesus.
Two-Way Radio
With Pool Nation, the listening ear goes both ways: De Jesus, Chakalis and Nicklas are always tuned in for feedback and suggestions.
"We really try to listen to the pool pros and see what it is that they're asking for," says De Jesus. "For example, we had a lot of pros that asked about finance and business training, so we created a software program to be able to teach a class. [Attendees] bring their numbers, their expenses and their income, and they plug them into this program, and by the time they're done with the class, they know exactly where they are financially."
At a recent session of the class in Dallas, some attendees requested a session specifically for women. Pool Nation heard the call, and dutifully answered. "Then, we ended up getting a lot of women saying, 'Hey, can we do a networking event the night before?'" says De Jesus. The guys made it happen, and went so far as to tap SPPA Owner Danielle Bahr and Jamie Novak of Natural Chemistry for special presentations.
"We ended up with 30 women from across the industry…I mean, we had people come from Atlanta, Maryland, California. That was huge to us," says De Jesus.
The cherry on top of the Pool Nation brand is an awards program, aimed to recognize companies, products, and individuals in various categories across the industry. The second annual Pool Nation awards was announced at the PSP/Deck Expo this month and covered 24 different categories, including Sales Rep of the Year, Pool Builder of the Year, Variable-Speed Pump of the Year and more.
"The neat part of it is just meeting so many different people, and watching their journeys," says De Jesus. "We've met people from all over the United States, and these are people that have now become our friends…every show that we go to, there's a core group that gets together."
Looking Ahead
As Pool Nation evolves, De Jesus, Chakalis and Nicklas will continue to focus on the education space. "We're really trying to reach pool pros in the early stages of coming into the industry," says De Jesus. "When you start in the industry, it's a lonely job. You're not talking to anybody, you don't have anybody that you can reach out to for help. So we really want to create those platforms and those tools for people…so they can take their companies to the next level, be financially successful and feel excited about being in the industry."
"If pool pros are financially successful, everything else will fall into place," he continues. "They'll be more successful, they'll be happier with their companies and their businesses, and that in turn just elevates our industry. Everything that we do now focuses on that: helping the pool pros and trying to elevate the industry."
This article first appeared in the November 2022 issue of AQUA Magazine — the top resource for retailers, builders and service pros in the pool and spa industry. Subscriptions to the print magazine are free to all industry professionals. Click here to subscribe.