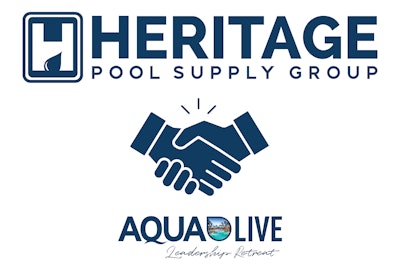 Heritage Pool Supply Group, Inc. ("Heritage") will be the headline sponsor of this year's AQUA Live Leadership Retreat, an exclusive business event in Fort Lauderdale, Fla., that will bring together 300 pool and spa managers/owners to network, learn and relax with like-minded, forward-thinking peers from December 11-13, 2023.
"At Heritage, we have long believed that putting people first and embracing continuous improvement creates a foundation for sustainable success," says Matt McDermott, president at Heritage Pool Supply. "The swimming pool industry is full of amazing talent and entrepreneurs, and we are proud to support AQUA Live which provides an environment that is perfect for learning, networking and elevating our great industry."
Some of the noteworthy education includes a Cornell School of Business seminar, pool and spa trends presented by PHTA President Sabeena Hickman, marketing bootcamp by the Get Smart Group, showroom design essentials by Ted Lawrence with KIK/Biolab and marketing tips from Brett Lloyd Abbott with Pool Builder Marketing. Outside of the conference, there will also be multiple beach receptions, a golf outing, a tour of the International Swimming Hall of Fame and so much more.
"We are very excited about the upcoming AQUA Live event in Fort Lauderdale," says Shawn Gahagan, president of AQUA Magazine. "This new leadership retreat will bring together top decision-makers in the industry for a three-day business and leisure event, and we greatly appreciate the support of an industry leader like Heritage Pool Supply. Their presence will help elevate the level of our event even higher."
Heritage Pool Supply Group has grown to become one of the largest and fastest growing pool supply distributors in the United States. Since the company's inception in 2021, Heritage has established a differentiated growth strategy and entrepreneurial culture that is focused on serving customers, partnering with suppliers and attracting the industry's best talent. Heritage currently operates under a family of distinct local brands encompassing more than 115 locations across 30 states.
To sign up for the AQUA Live Leadership Retreat and join Heritage Pool Supply for this exclusive event, follow this link.