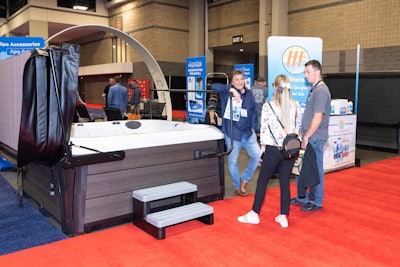 SnapHappy Photos, LLC
As a pool and spa professional, it is important to be up-to-date on the latest advancements and products in the industry to add value to your business. The ability to see products from manufacturers and learn from your peers in person is extremely beneficial, and trade shows offer a platform to do both. Due to the duration and complexity of shows, they can be overwhelming. So, as the industry travels to Orlando for the Everything Under the Sun expo this week, we offer seven steps pros should take to make the trip worthwhile.
1. Address your company's needs and goals — No matter where your company is, there is always room for improvement. Consider where you want to see your company go in the next year. Do you want to expand your product selection in a certain area? Is there a topic you would like to be more educated on? Whatever it may be, it is important to lay out your company's goals and the best plan of action at the trade show to help meet them. Remember, be realistic! Trade shows are filled with of products and many seminars, and it is easy to get carried away. Understand that your time there is limited, and it is beneficial to narrow down what is most important to you, your employees and business.
2. Thoroughly research the event — It is important to inform yourself of the details leading up to the event. Most trade shows have websites with all the information that you will need, so it's up to you to utilize the resources provided. Since you addressed your goals and objectives for the event, it now boils down to writing the dates and times of the conferences, workshops and show hours you plan to attend. Additionally, it is just as important to research the lodging and transportation options. You don't want to be stuck at a hotel that is a town over or miss a conference because you weren't aware of the shuttle bus hours.
Pro Tip: Treat trade shows like it's a vacation. You wouldn't visit Disneyland without researching the different parks, rides and hours, would you?
3. Create a detailed itinerary — After gathering all the necessary information, organize it by day. Then, break it down further by the time of day or hourly, whichever you prefer. Due to the overwhelming amount of information you will have, it will be beneficial if you organize each day in digestible increments, that way you don't accidentally miss anything. Once you create a detailed itinerary, print it out or set it as your phone lock screen for easy access. Along with your itinerary, have the map of the trade show handy because it will save you so much time — seriously.
4. Pack and dress accordingly — It is important to consider yourself "on the clock" while attending trade shows because you are going to be interacting with industry professionals left and right. You want to make sure you are representing your company appropriately. Wear what you would typically wear to work or consider dressing it up a bit more. Additionally, consider what you are going to wear after trade show hours. You may end up meeting with another professional over dinner, and the outfit from earlier may not exactly work. It would be best if you packed a few extra outfits, just in case.
5. Pack for the day — Bring along a light tote or bag with everything you need to get you through the day. Your bag should have a notebook and pen, a water bottle, snacks, and a stack of business cards. If you have one, a computer or tablet would be helpful, too. These tools will help you to write down the information you learn from conferences or after speaking with someone. It would be impossible for you to retain all the information you learned and recall it all once the trade show is over.
6. Network, network, network — While you are at a trade show, it is crucial to network. It can be as simple as sparking up a casual conversation about the day's events or their company and ending it with, "I would like to add you on LinkedIn if you don't mind," or "Do you have a business card?" When you connect with industry professionals, you're putting your company out there and expanding your network, both of which could benefit you down the road. To set yourself apart from everyone else, make sure you reach out by sending a message on LinkedIn or giving them a quick phone call or email to thank them for their time, insight, or whatever it was that led you to want to stay in touch.
7. Stay active on social media — While at the trade show, it is important to still make time to update your social media. If you are traveling with a group, assign one person to be in charge of it for one day or the entire time to ensure that it gets updated. Industry professionals who are not in attendance will most likely enjoy seeing videos of the day's events or pictures of new products. With that being said, consider "vlogging" your time at the trade show. Again, with someone in charge, it's easy to record snippets of your day to engage and bring your social media followers along. Moreover, this allows you to tag companies that are at the trade show and could result in the reposting of content, which gives all parties involved more exposure. It will also show your customers who follow you that you invest in business education and services.
While there is a lot to consider before attending a trade show, the most important thing to remember is to enjoy your time there! It is not everyday that you get to travel to a new place and be surrounded by innovative products and professionals that share the same passion for all things pools and spas. If you just take trade shows one step at a time, you'll walk away with an abundance of information to better your business and a new appreciation for the industry.