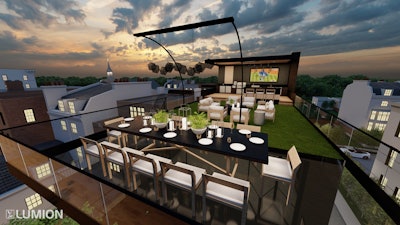 At the 2022 Pool | Spa | Patio Expo in Las Vegas last week, attendees gathered on the show floor to witness the crowning of the Million Dollar Pool Design Challenge champion.
Spearheaded by renowned designers Mike Farley and Reid Schindler, the annual contest aims to inspire top-notch backyard concepts by eliminating the constraints of a budget. A fictional scenario is outlined each year, challenging designers to meet the wants and needs of a "client" in a specific location.
For the 2022 contest, entrants were tasked with designing a backyard oasis for a husband-and-wife pair of lawyers in Chicago, Ill. These "clients" sought a seasonal space prioritizing health, wellness and guest entertainment, with a lengthy wish list that included the use of a Riverflow Pump by Current Systems (lazy river, swim current system, or whitewater current), a fire element to gather around, a real or synthetic lawn space, the use of Ledge Lounger furniture, an outdoor kitchen and more.
"We try to have [the site] in a different geographic location every year, in a different style," Farley and Schindler explained. "This year, we looked at doing something different – we went to Chicago. What's well known there are the brownstones and very small, restrictive projects, which is totally different from some of the projects that we've done in the past. So the challenge was to create something in a very small footprint."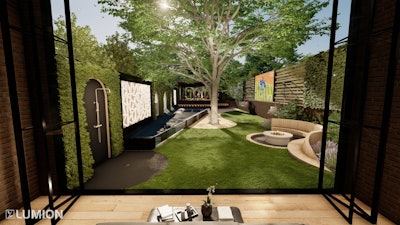 The 2022 contest saw a record number of entrants, but only a handful were selected to show off their work in Vegas. Finalists included Brent Dutton of PoolHaus, Whitney Morris and Stephanie Carnahan of Old State Landscape, Rance Schindler of Complete Exterior Solutions, Brad Holley of Randy Angell Designs and Minsung Kim, Karishma Karki, Paola Hidalgo and Sameepa Modi of AquaTerra Outdoors. A panel of industry experts judged their concepts using a point-based system to rate aesthetic quality, differentiation, functionality and realization possibility.
Each finalist's design was presented to a live audience on the show floor in Vegas; ultimately, Rance Schindler of Complete Exterior Solutions was named the winner. Highlights of his project included a large, mature oak for shading, a luxurious rooftop dining area and a wellness studio with an overhanging clear deck looking straight down over a hot tub.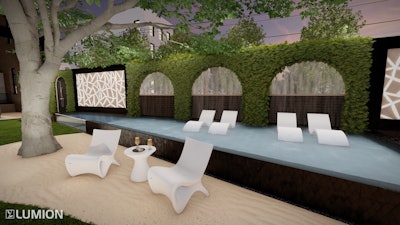 "One of the criteria for judging this year was, 'How Chicago does the space feel?'" panel judge Jason Brownleee, owner of J. Brownlee Design, commented after Schindler's design was presented. "And this design, to me, feels like I'm next to Wrigley Field and a little Chicago pocket park. Everything felt right with it, down to the bar at the top…It all flows well."
The winning work earned Schindler a $10,000 cash prize (courtesy of lead sponsor Riverflow Current Systems), a customized trophy and an invitation to sit on the judges panel next year.
For more information about the contest, and how to enter in 2023, visit www.themilliondollarpoolchallenge.com.