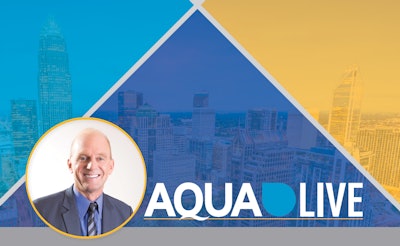 Imagine being the fastest swimmer in the world, in the peak of your career, after years of blood, sweat and tears on the road to the Olympic level — only to find out that you can't compete.
That's exactly what happened to swimmer Rowdy Gaines in 1980. In fact, just one day after he broke his first world record, President Carter announced a U.S. boycott of the Moscow Olympics.
Gaines thought he'd missed his chance. But life, as in swimming, is all about perseverance: After a year-long hiatus, he returned to the water and eventually made the U.S. team for the 1984 Olympic Games in Los Angeles, where he won individual gold in the 100-meter freestyle and anchored two gold-winning relay teams.
It was a comeback for the books, but it wasn't his last: In 1991, Gaines was diagnosed with Guillain-Barre Syndrome, leaving him paralyzed for over two weeks. Not only did he recover, but he went on to win two World Masters titles and broke two World Masters records the following year.
Today, among a range of other roles, Gaines is closely involved with the pool and spa industry as the Pool & Hot Tub Alliance's vice president of partnerships and development. He also spearheads the organization's Step Into Swim program, which provides children with access to safe swimming education.
As a regular announcer, Gaines has been called "the voice of swimming" — and in a few short weeks, he'll also be the voice of AQUA Live's Keynote at the Charlotte Convention Center in Charlotte, N.C.
Pool and spa professionals will be touched by Gaines' hard-earned wisdom, delivered with a signature dose of humor. You can learn from his inspirational story as he unpacks the importance of taking risks, overcoming the fear of failure, and staying dedicated. After all, as Gaines has said: "the real champions are the ones who can live through good and bad times."
As a member of Team USA — one of the most iconic, elite teams on Earth, with the highest Olympic gold medal count of any country by far — Gaines will also speak to the power of teamwork in an individual life, a meaningful lesson with applications for all attendees.
Mark your calendars: Gaines' AQUA Live Keynote is scheduled for Thursday, Oct. 6 from 10:45 to 11:45 a.m. in the Crown Ballroom.