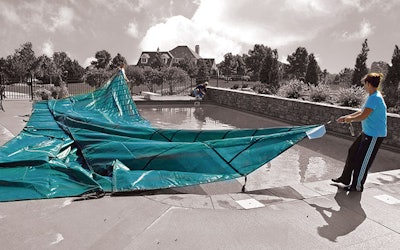 Of the three main industry sectors, service is the least associated with safety. Builders work to follow construction standards and install safety features such as automatic covers, fences and enclosures, and retailers sell safety products on a daily basis and routinely advise their customers about the safe operation of pools and spas. But for service techs who don't get much face-to-face interaction, safety promotion is less what they say, and more what they do.
"We don't talk to our customers very often because they're not home when we're there servicing their pools," says Jerry Pahl, owner of Pool Medic in Lutz, Fla. "So we're not able to advise them on a regular basis, but we can make them aware of changes and repairs that will protect people using their pools and spas, and most importantly, keep their water safe."
RELATED: Study Finds Safety is Paramount for Customers Interested in a Pool or Spa
For Pool Medic, the No. 1 safety issue is the prevention of waterborne infectious diseases. "Our first responsibility is to do everything we can to be sure our customers are swimming in water that is well balanced, clean and safe," he says. "We try to keep chemical use to minimum by making sure the water is well balanced and properly sanitized."
In Pool Medic's case, that means relying on the constant chlorinating power, and continuous monitoring, that saltwater chlorination provides.
"We record readings via a smartphone app so that we always sure the pools are sanitized," Pahl says. "You never know when you'll have to prove that you're maintaining sanitized water."
CAREFUL OBSERVATIONS
All of Pool Medics' service techs are trained as certified pool operators, an investment in education that pays dividends in terms of their ability to address problems on their routes.
"It's all about education," Pahl explains, "and our ability to understand the way pools work and how all the different parts of water treatment, filtration and circulation work together."
That level of understanding is especially helpful when the company takes on new accounts. "We go through the entire system," Pahl explains, "from the chemical treatment to the equipment and the overall environment. When we find problems — especially those that lead to unsafe conditions — we make recommendations that our clients can either accept or choose not to. In some situations, we'll walk away from an account if the owners aren't willing to correct serious problems."
RELATED: When it Comes to Pool Lighting, Think Safety First
Those assessments can lead to some issues that others might not immediately see as safety issues.
"Pool decks, for example — we see a lot of pools these days that are surrounded by travertine or other extremely slippery materials," Pahl says, "but without a non-slip finish. That's a potentially dangerous situation that makes no sense."
Far more familiar to the work of traditional safety advocates, Pahl's crews also look for VGB compliance.
"We'll recommend they replace drain covers so they're in compliance," Pahl explains, "and we find some things most people miss." For example, his techs look for missing closable caps on outlets for automatic pool cleaners. "That might seem a small thing, but a kid could easily get a finger or if they're small enough even their whole arm stuck in there. It's a simple thing to fix before an accident happens but a desperate situation where you have to take apart that part of the pool if it does."
For all his company's focus on safety and prevention, the aspects that Pool Medic does not address include engineering issues of pump and plumbing sizing, recommending safety covers or commercial-related features such as signage or depth markers. "We're just not in the position to address those issues," he says, "so we focus on what can do best."
Ultimately, Pahl says, the true battle for aquatic safety comes down to each and every person taking responsibility for it, both in the industry and among pool owners.
"You can give people all the information that's out there and urge them to make the right decision, but you can't force it on anyone," he says. "They have to decide for themselves if they want to be in compliance with codes and standards or do what they need to in order to create safe environment."
The Safety Compendium
Even the most cursory look at water-related safety issues reveals a multifaceted spectrum of hazards and preventive measures. Figuring out which areas best fit your business model is part of effectively taking on the safety issue in a positive and constructive way.
Drowning prevention: Each year our nation is beset with scores of child drowning accidents in pools and spas. When most people think of safety, this is the first issue that comes to mind. Organizations including the Consumer Product Safety Commission, American Red Cross, NSPF, APSP and every drowning-prevention advocate and organization promotes layers of protect including barriers, covers and above all, supervision.
Suction Entrapment: The letters VGB, without doubt, are indelibly etched on the industry's collective conscience. Drain cover compliance, line-speed velocity and the use of atmospheric breaks and suction-release devices are all familiar measures mandated in the now-famous legislation.
Diving accidents: An issue that most greatly impacts builders and standards writers, litigation stemming from injuries sustained by diving in shallow water have transformed some of the industry's largest associations and manufacturers and resulted in enhanced standards for the design and construction of swimming pools.
Slip and fall hazards: One of the lesser discussed safety issues, the risk of slipping on wet and slippery surfaces around pools is the source of many pool-related injuries. Although not typically fatal, the hazard can present significant liability exposure to property owners and even pool builders.
Water-related illness: A subject of recent attention, especially for public and commercial pools, the prevention of illness due to the presence of waterborne pathogens has led to a movement toward multiple pillars of sanitation and a general call for greater awareness of basic water-treatment principles.
Electrical safety: Water, electricity and the human body can be a tragic combination if basic grounding and bonding practices as defined by the National Electric Code are not followed. Deaths due to electrical accidents still occur with regularity and those who conduct safety pool inspections report that potential hazards are common.