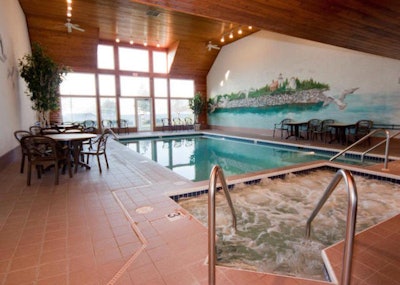 Two maintenance workers at a Door County, Wisc., were sent to a hospital Wednesday morning after pool chemicals were improperly mixed, according to a report on local news station WBAY. The mixture caused a reaction that in turn formed vapors, making it difficult for people at the resort to breathe. The resort was evacuated as a result.
Guests at Westwood Shores Waterside Resort left the building as fire crews emerged with the chemical mixture, which they diluted in a barrel outside the resort. Fans were then used to help ventilate the building. The maintenance workers — one who mixed the chemicals and another who came to assist — were taken to a hospital as a precautionary measure. Eight other people were treated at the scene.
RELATED: Indoor Pools, Potential Problems?
"The major problem with this situation, this type of material, is it creates chest congestion, tightness, and burning in the throat," said Dan Williams, Door County emergency director. "Once we were able to give them a breathing treatment to open up their airways everybody got better quite well, pretty quickly."
Jeff Schartner, the maintenance worker who mixed the chemicals, said, "Very disappointed because our customers, we don't like to make it inconvenient for them, you know. They're our people."
RELATED: The Incredible Mistake a Service Pro Made
Schartner says he likely mixed the chemicals too quickly, causing the reaction that immediately made it hard for him to take deep breaths. He says the incident caught him by surprise and he'll be much more careful moving forward.
"I'm going to read the label and not put what I put in there. It's real simple – it's not rocket science," he said.
Guests and staff have since been allowed to return to their rooms at the resort. However, guests were told to avoid the pool area until it was properly ventilated.