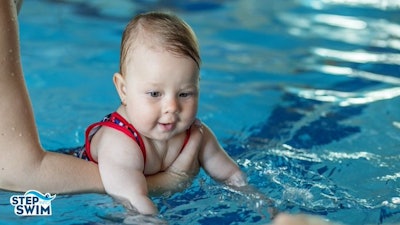 The Pool & Hot Tub Alliance (PHTA) announced a strong close of the 2022 program year for its water safety initiative, Step Into Swim. Led by Rowdy Gaines, Olympic Gold Medalist and vice president and Development at PHTA, Step Into Swim continues to raise awareness for drowning prevention and the lifesaving skill of learning how to swim. The program raised $750,000 this year thanks to donors who believe in its mission to create more swimmers.
"Thanks to the support of our generous donors, Step Into Swim has made a difference for families throughout the U.S. and elevated our message about the importance of swim lessons," says Gaines. "We have had an amazing year and I look forward to what we'll accomplish in 2023."
In 2022, Step Into Swim raised over $750,000 dollars from the pool and hot tub industry, provided grants to more than 60 facilities in 43 states, funded swim lessons for 23,500 children, featured a swim safety segment on The TODAY Show and collaborated with its Champions Board — a distinguished group of athletes, industry professionals and philanthropists — to advance the difference-making initiative.
"There is no greater mission for PHTA's Step Into Swim program than to create more swimmers. By expanding our reach and working alongside trusted industry advocates, we can continue to instill safety and confidence in even our youngest of swimmers," says Sabeena Hickman, CAE, president and CEO of PHTA. "With Rowdy at the helm and our partners beside him, Step Into Swim is a champion for drowning prevention education."
Step Into Swim proudly recognizes its top 2022 donors including Fluidra (Diamond Level); American Pools, AquaCal, Claffey Pools, Florida Swimming Pool Association and Hayward (Platinum Level); and Heritage Pool Supply Group, Master Pools Guild and Premier Pools & Spas (Gold Level).
On average, it costs Step Into Swim $50 per child to provide swimming lessons. Donors can support Step Into Swim at tiered funding levels, and 100% of funds go directly to Step Into Swim programming to ensure children get the education they need to thrive in and around the water. Visit www.StepIntoSwim.org to see a full list of supporters and to learn more about how to get involved.