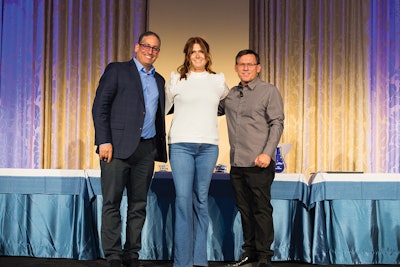 Credit: Photo courtesy PHTA
THE POOL & HOT Tub Alliance (PHTA) has awarded the 2022 Greg Garrett Scholarship to Kelli Clancy in the amount of $5,000. All applicants were required to be a PHTA member in the builder or service sector in order to participate. A six-member selection committee chose the best applicant, which was extremely difficult for them to do because of the overwhelming number of impressive applications. The scholarship was created in order to increase professionalism and provide an opportunity for continuing education by covering a portion of the PHTA education and certification fees.
The Greg Garrett Scholarship Award was developed this year by the PHTA Recreational Water & Air Quality Committee (RWQC). Before passing, Greg Garrett dedicated 45 years to the pool and spa industry, focused heavily in the construction trades. Garrett was the president and owner of Applied Materials Technologies (AMT), the vice chairman and director of technical services for the National Plasterers Council, and he was a voting member of the American Concrete Institute (ACI) Committee: 524 Plastering. He also served as a leader for the PHTA RWQC, Builders Council and Standard Writing Committees, and he helped co-launch the Pool Chemistry Residential Certification, the first chemistry course specific to residential pool professionals.
According to Genevieve Lynn, PHTA program director of Standards & Technical Services, Garrett was just as compassionate as he was intelligent. "People said he was a walking encyclopedia. In meetings, he would say something about an issue that came from a manual, and then he would quote the chapter, the paragraph and the page number, which was very impressive," says Lynn. "In addition, he had a really interesting personality. A lot of people said he made them feel like they were the only ones in the room by sharing his personal attention and charisma. He really liked to help people, and I think that carried over into the industry.
"As an Industry Fellow, Garrett held the highest honor within PHTA, and was an exceptional advocate for education and standards. He shared this enthusiasm at committee meetings, as well as all throughout the country at various trade organizations, teaching 40 to 50 seminars every year. Ultimately, this scholarship was created in memory of Garrett, and in hopes of giving other professionals the opportunity to make a significant impact on the industry.
This year's winner, Kelli Clancy, is the owner of Legacy Pool & Spa. From a young age, Clancy had the unique opportunity to either go on service calls with her father, or sit in the family store and provide customer service with her mother. As a child, Clancy hated pools, but as she began her pool career, she came to love the industry just as much as her parents did.
Around five years ago, Clancy was working in a school health office. However, with two kids of her own, she needed a higher source of income in order to better provide for her family. She decided that pools were the way to go, and after inheriting her father's old equipment, she started her pool business and newfound passion.
It took Clancy almost a year to establish her business. In the beginning, a lot of her struggles were due to messing up. Luckily, she learned from these initial failures, and was able to grow her business into the success it is today. "When I do learn things, it's because I mess up, or didn't do it correctly, and I learn my lesson," says Clancy. "Up until recently, it's a lot of on the job training. You put too many chemicals in the pool, and it stained or scaled it, or you didn't glue something in correctly, or you put it in backwards... Messing up takes time and money, but it ensures that I won't make the same mistake twice."
Outside of her business, Clancy also volunteers much of her time to help others in the industry, similar to that of Garrett. In 2020, Clancy co-founded Pool Girl Pro Industry Trainings, which is an organization that meets and covers the topics of educational training and networking opportunities for women in the pool and spa industry. She also has a podcast and has volunteered with the Independent Pool and Spa Service Association (IPSSA) for many years now, earning the title of chapter secretary president on the National Membership Committee.
Prior to receiving the scholarship, Clancy earned both her Certified Pool & Spa Operator (CPO) and Certified Pool & Spa Inspector (CPI) certifications through PHTA. After receiving the scholarship, she now has the financial means to continue on with her education and certifications, a professional dream of hers.
"It's going to allow me to take upper-level classes that aren't cheap. When you're a single mom trying to maintain a business, those high prices aren't the most tangible," says Clancy. "If I had the money, I'd definitely pay for the classes and training myself because I know the cost will pay off in the end. Being awarded the scholarship will allow me to get at least half of the GENESIS classes taken care of, which is a huge benefit for me and my customers."
With the Greg Garrett Scholarship, Clancy is excited to take GENESIS courses and earn additional certifications through the Certified Pool Builder & Design Professional Pathway to move further into the building and design sector of the industry.
Ultimately, when Clancy found out she had been awarded the scholarship, she cried. She was overwhelmed by the amount of money and honor suddenly placed upon her. She is determined to use the scholarship to help others in the industry and honor Greg's memory. When asked why she thought her application stood out, Clancy said, "I think it's because of the things I do in the industry. I always try to help women be the best they can be. Greg Garrett was similar in that way — he wanted to make sure people knew how to do things right. He paid it forward, everything he had ever learned. I think that's what made my application stand out, because I have those same beliefs as Greg."
This article first appeared in the February 2022 issue of AQUA Magazine — the top resource for retailers, builders and service pros in the pool and spa industry. Subscriptions to the print magazine are free to all industry professionals. Click here to subscribe.