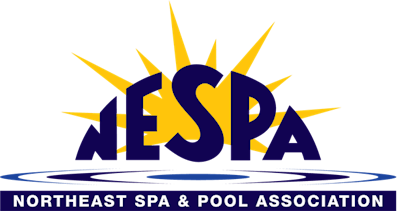 NESPA inducted its 2022 to 2023 Board of Directors at the Association's Annual Membership Meeting. The new Board President, Julie Kazdin, was joined by her father, George Kazdin, who also served as NESPA President in 1986.
"Representing members from across the region and all segments of our industry, this board is ready to tackle the challenges ahead and create new opportunities for our industry," says newly elected President Julie Kazdin. "For over 60 years, the focus of NESPA has been supporting our members' success. The Board and I look forward to continuing to deliver on that promise in the year ahead."
---
The following members of the Executive Committee for the association were sworn into office:
President
Julie Kazdin, Kazdin Pools
Southampton, N.Y.
Vice President
Kyle Chaikin, Chaikin Ultimate Pools
Deer Park, N.Y.
Treasurer
Rob Romano, David Cooke Plaster
Norwalk, Conn.
Secretary
Isaac Keselman, Aqua Doctor
N.J.
Past President
Chas Bogardus, Budd's Pools & Spas
Deptford, N.J.
---
The Board is also comprised of representatives from the Northeast Spa and Pool Association's four Chapters as well as Directors at Large.
Directors At Large
Benjamin Basch, American Pool Management
Barry Kenny, Bel-Aqua Pool Supply
Jeff McGalliard, Premier Pools & Spas
Michael Todd, Rainbow Pools & Construction
Connecticut Chapter
Bill Drakeley, Drakeley Pool Company
Pat McDougal, Newtown Pools
Rob Romano, David Cooke Plaster
Long Island Chapter
Kyle Chaikin, Chaikin Ultimate Pools
Ed Cohen, Chaikin Ultimate Pools
Ken Barthman, Dunrite Leisure Pools
Metro N.Y. - N.J. Chapter
Robert Blanda, Mill Bergen Pool Center
Isaac Keselman, Aqua Doctor
John Migliaccio - Retired
Penn - Jersey Chapter
Sean Bishop, The Pool Experts
Sarah Garrahan, Blithe Sales Company
Jeremy Hasbrouck, Hasbrouck Pool and Spa