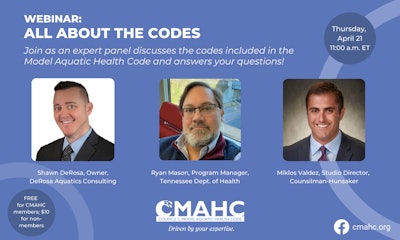 The Council for the Model Aquatic Health Code is scheduled to host an upcoming webinar titled "All About the Codes." Full details, provided by the organization, are below.
---
Join CMAHC on Thursday, April 21 at 11:00 a.m. ET for a FREE webinar (CMAHC members). Only $10 for non-members. Limited spots available.
Listen in as an expert panel discusses the codes referenced in the Model Aquatic Health Code (MAHC) — and answers your questions. In this webinar, you'll learn what codes are referenced in the MAHC and how they apply to aquatic venue design, construction and operations.
Do you have a question about the codes? Submit it in advance to cmahc@cmahc.org. The panelists plan to answer as many questions as possible during the live event.