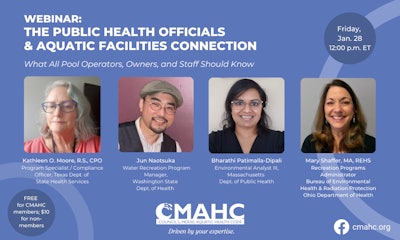 The Council for the Model Aquatic Health Code is scheduled to host an upcoming webinar titled "The Public Health Officials & Aquatic Facilities Connection." Full details, provided by the organization, are below.
---
FREE for CMAHC members. Only $10 for non-members.
This webinar brings together an expert panel of public health officials to discuss the relationship between public health officials and the owner, operators, service professionals, and staff of aquatic venues. In addition to learning the top issues that public health officials see with aquatic venues, the webinar will have a moderated Q&A period during which participants can ask questions live.
Limited spaces available. Click here to join us on Friday, January 28 at 12:00 p.m. ET.
Key takeaways will include:
Learn the top issues that public health officials see when inspecting aquatic venues
Gain valuable insight on what public health officials deem priorities when inspecting aquatic venues
Explore the inspector-to-owner/operator/staff/service relationships and learn three ways to enhance this relationship