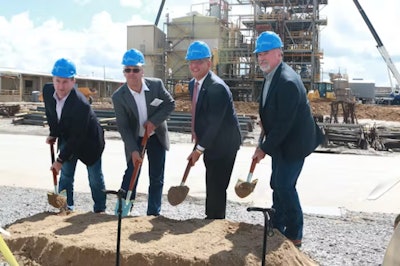 *Editor's Note: Since this article's publication, the new facility has been opened. To read more about the new-and-improved BioLab chemical plant, click here.*
While there are several factors causing the chlorine shortage plaguing the pool and spa industry, the most notable is the loss of a BioLab chemical plant in Lake Charles, La., as a result of Hurricane Laura in August 2020.
In June of 2021, BioLab announced it had officially started the plant reconstruction process after a $170-million investment from KIK. Stephen Jackson, KIK CFO, said at the time that the new plant would be more efficient and flexible with an increase in production capacity of 30%.
Now, after nearly nine months of construction, BioLab has announced the new facility should open its doors by August, 2022.
"At that point, we will recalibrate the machines, do test runs, etc., which will most likely happen in September," says Tom Perugini, district sales manager for Natural Chemistry Pool and Seaklear Pool Products at KIK Consumer Products. "Once we make sure everything is running and testing right, [BioLab] will officially start production — later this year … or realistically, 2023."
Perugini could not speculate if this would lead to a decrease in price. "Will the price be coming down? I don't know," he says, "but once we get back online, hopefully we won't have the shortages that we are seeing now."