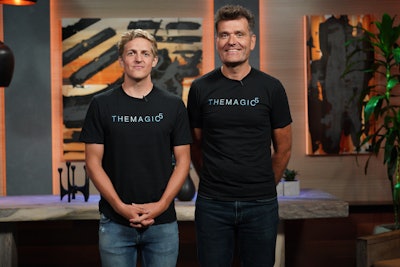 A tech company offering innovative, customized swim goggles just scored one of the biggest deals in Shark Tank history.
Triathletes Rasmus Barfred and Bo Haaber co-founded THEMAGIC5 after being disappointed by a range of leaky, ill-fitting goggles across the market. "We thought it would make sense to create a product that would cost the same as other swimming goggles, but be custom-fit to the wearer," says Barfred.
The duo, originally from Denmark, developed an optimal fitting technology powered by facial scanning. "We generate an exact 3D model of your face based on the scan. It tells us how deep your eyes are, what the curvature is, all of those critical data points," explains Barfred. "Based on that input, our technology takes the swimming goggles and approximates the perfect fit to your face...it generates a data package that we send to our robots [for production]."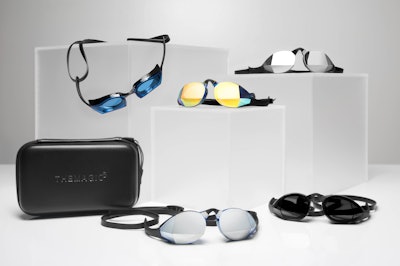 After a successful kickstarter campaign, Barfred and Haaber relocated to the U.S. and set up production in North Carolina. Their goggles soon caught the attention of some professional athletes, including open water specialist Jordan Wilimovsky, who competed in a custom pair at the Tokyo 2020 Summer Olympics.
Eventually, it was time to find a business partner who could help THEMAGIC5 expand operations. Barfred and Haaber entered the Shark Tank seeking a $500,000 investment for 2.5% equity.
"We were excited and nervous at the same time...[our ask] was not the biggest we've ever seen, but it was quite a steep ask," says Barfred. "We were nervous about how that would be received by the Sharks."
As the pitch progressed, the Sharks realized they were dealing with much more than just goggles. "They quickly picked up that there's a lot of technology involved in being able to custom-produce a product so easily, so efficiently and so precisely as we can, on a massive scale," says Barfred. "This technology is our core competence...building it up is extremely complicated, and it requires a lot of testing and data."
Within five minutes, Mark Cuban placed his first bid. The remaining Sharks circled until Robert Herjavec ended up offering $1 million for 6.5% equity, which Barfred and Haaber accepted.
"It was too good to be true, to be honest," says Barfred.
Just one weekend after the episode aired, THEMAGIC5's customer base grew from 40,000 to 60,000 — and it seems there's room for expansion in all directions. "Our technology doesn't really care whether it's fitting swimming goggles, or a cycling helmet, or a soccer shoe. That's how we can take it into other categories," Barfred explains.
But for now, the company intends to keep its focus steady. "There's so much growth for us with the swimming goggles — it wouldn't make sense to prioritize our time and efforts anywhere else. But it would be a shame not to explore other products produced by our technology."