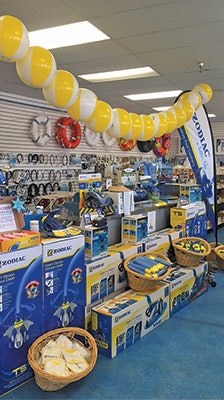 Imagine if selling automatic pool cleaners was like selling the hot toy of the Christmas season. Sounds crazy, right?
Stephanie Shaver, director of operations at Aquarius Pools Construction Company in Columbus, Ga., is getting close to making that vision a reality. Over the past two years, her Polaris Days dealer events have grown so much, people are picking up the phone to place holds.
"We had people calling saying 'I'm going to come get this, make sure you have one for me!'" Shaver says. Last year, she had 13 units on hold before the sale began, up from 10 the year before.
Polaris Days and its companion event, Zodiac Days, is a nationwide program for brick-and-mortar retailers and service professionals. During the event, consumers can take advantage of rebates as well as an additional 10 percent discount on select models and an extended warranty.
"That has helped boost us, no doubt," Shaver says.
To help push foot traffic to her store, Shaver launched a broad marketing campaign including direct mail, social media posts, a billboard, a television ad and social media. To help dealers promote their Polaris/Zodiac Days, Zodiac chips in with free, professionally-designed postcards — last year offering 500, and in 2016, 1,000 for each dealer.
In addition to strong sales, Shaver finds these sales events offer a valuable opportunity to get one-on-one time with both new and regular customers.
"I think we're able to get personable with people. We're able to show them, 'Ok, if you have a problem with this product, we can fix it,'" she says.
It's an especially important lesson to impart as Shaver and retailers across the nation focus on service as a way to compete against big box stores and online retailers. Once customers have purchased their cleaners from Aquarius, Shaver and her team keep close to the phone in case customers run into trouble.
"A lot of times, as they buy the unit from us, it needs to be cut to fit the pool," Shaver says. "We go out there, no charge, and cut it to fit the pool. That alone helps too because a lot of people don't know how to install these when they buy them. And they run into a problem with it not running correctly because it's not installed correctly."
And it doesn't hurt that Shaver is known in her area her pool and spa service know-how.
"I've been working on Polarises for about 15 years now, and I've kind of built up a reputation here that if anybody has a Polaris issue, they know my name personally and they know the store I work at," she says. "I think that in turn has helped as well."
It just goes to show that experience, a good reputation and an irresistible deal can do wonders for business.
Comments or thoughts on this article? Please e-mail cailley@aquamagazine.com.