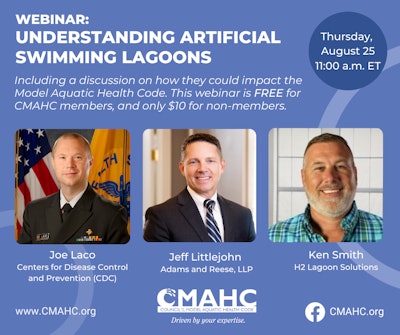 The Council for the Model Aquatic Health Code is scheduled to host an upcoming webinar titled "Understanding Artificial Swimming Lagoons." Full details, provided by the organization, are below.
Join CMAHC on Thursday, Aug. 25, 11:00 a.m. ET for a FREE webinar (CMAHC members). Only $10 for non-members. Limited spots available.
Listen in as a panel of experts — Joe Laco, CDC, Jeff Littlejohn, Adams and Reese, and Ken Smith, H2 Lagoon Solutions — discuss artificial swimming lagoons, including how they might impact the Model Aquatic Health Code (MAHC).
Do you have a question? Submit it in advance to [email protected]. The panelists plan to answer as many questions as possible during the live event.