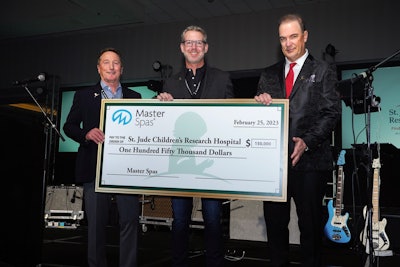 Master Spas, a leading manufacturer of premium hot tubs and swim spas, continued its support of St. Jude Children's Research Hospital as a charity sponsor of the 2023 Warburton Golf Tournament.
Master Spas donated an H2X Trainer 15 swim spa to the auction and presented St. Jude with a significant donation, which was made on behalf of Master Spas and its worldwide network of specialty retailers. In addition, Master Spas donated a Michael Phelps Legend Series hot tub for the St. Jude Dream Home Giveaway raffle.
The 2023 Warburton Golf Tournament took place February 23-26 at the JW Marriott Desert Springs, California. It is an annual event that brings together celebrities, professional athletes and top-tier golfers to support St. Jude Children's Research Hospital, which provides life-saving care to children battling cancer and other life-threatening diseases. The event includes a golf tournament, auction and other activities designed to raise awareness and funds for the hospital.
"We are honored to partner with the Warburton Golf Tournament and St. Jude Children's Research Hospital to support this important cause," said Kevin Richards, vice president of sales and marketing at Master Spas. "As a company, we are committed to making a positive impact in our community, and we believe that supporting St. Jude's mission to find cures for childhood diseases is a worthy cause."
This year's four-day event raised more than $4.7 million for St. Jude Children's Research Hospital. The Warburton is the highest grossing tournament for St. Jude Children's Research Hospital, raising more than $26.5 million since it began 13 years ago.
Fueled by the company's mission and values, Master Spas has established a charitable giving program that supports multiple nonprofit organizations and charities, including St. Jude Children's Research Hospital. The Master Spas Care program extends beyond the company and to its global network of retailers.
Families never receive a bill from St. Jude for treatment, travel, housing or food – because all a family should worry about is helping their child live. Because of events like The Warburton, St. Jude can provide cutting-edge treatments not covered by insurance, at no cost to families. When St. Jude opened in 1962, childhood cancer was considered incurable. Since then, St. Jude has helped push the overall survival rate from 20% to more than 80%, and won't stop until no child dies from cancer.