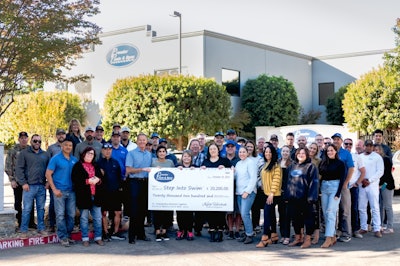 PHTA
Premier Pools & Spas announced its sponsorship of Step Into Swim, an initiative of the Pool & Hot Tub Alliance (PHTA) dedicated to creating more swimmers through safer swim education. The Gold Level sponsorship from Premier Pools & Spas is part of its commitment to support the community and helps Step Into Swim invest in the next generation of swimmers through learn-to-swim programming.
For 34 years, Premier Pools & Spas has been an industry leader in pool construction in the Sacramento area. While helping thousands of families to realize their dream of having their own backyard pool, Premier Pools & Spas understands the need for everyone, especially children, to have the training and knowledge to enjoy the water safely — whether it is at home, lakes, rivers or community pools.
"Being in the water is fun, and we are strong believers in making it both safer and enjoyable. It's critical that today's youth have the life-saving skill of knowing how to swim safely and properly and feel confident in the water. Unfortunately, according to the CDC, drowning is a leading cause of death between children ages one to four. We want to do our part to help make a difference and are committed to supporting the Step Into Swim water safety program," says Keith Harbeck, president and CEO of Premier Pools & Spas – Sacramento. "For every pool that we sell in the month of September, we will add to our regular support of Step Into Swim by sponsoring swimming lessons for two children in local, underserved communities that may not have the means or resources to get them."
Already, as part of the company's Endless Summer Sale, a portion of every sale was donated to Step Into Swim for a grand total of $20,200.
For those ages one to four, learning to swim from a qualified instructor drastically reduces the risk of drowning by 88% and is critical in keeping children safer in the water. Premier Pools & Spas shares in Step Into Swim's mission of drowning prevention with access to free swimming lessons and educational resources that empower our children to be confident in and around water.
"I am grateful to Premier Pools & Spas for their continued support of and generosity to Step Into Swim," says Rowdy Gaines, three-time Olympic Gold Medalist and vice president of Partnerships and Development for PHTA. "Our donors and sponsors are the driving force behind the success of this program. Premier Pools' commitment to Step Into Swim allows us to help save lives, promote the benefits of swimming, and serve as an educational resource for water safety in communities where it is needed most."