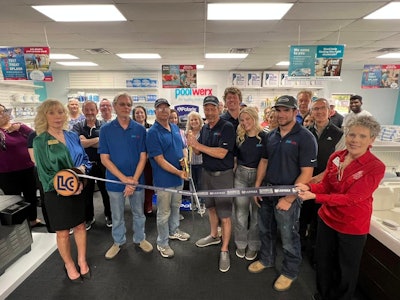 Poolwerx, a large global pool retail and service franchise company, is pleased to announce a new Lubbock business owner has been added to the Poolwerx family in the High Plains area. Partnering with West Texas Hot Tubs, Poolwerx Lubbock at 7239 Quaker Avenue will serve its area with quality pool supplies and pool service. This new addition marks territory No. 354 in the Poolwerx network.
David DuPont has been an entrepreneur in the pool industry for over a decade, servicing pools and hot tubs. In February, he signed a deal to bring the Poolwerx name to Lubbock. While the pool service is already operating, his new pool store officially opened on Thursday, April 20.
"After 18 years of being in business, we were looking for a company to help us continue to grow," says DuPont. "We felt that the Poolwerx system and people would drive our success."
Poolwerx Lubbock, located inside the Jacuzzi Hot Tubs on Quaker Ave, hosted a ribbon-cutting ceremony and celebration with the Lubbock Chamber on Thursday, April 20, 2023. They offered 20% off chemicals throughout the month of April to celebrate the occasion.
The newly expanded Poolwerx Lubbock comes with a pool supply retail store, as well as a certified repair, remodeling, cleaning and maintenance service to keep pools healthy all year round. Poolwerx experts can be reached by phone at (806) 543- 3778 or by email at lubbock@poolwerx.com.