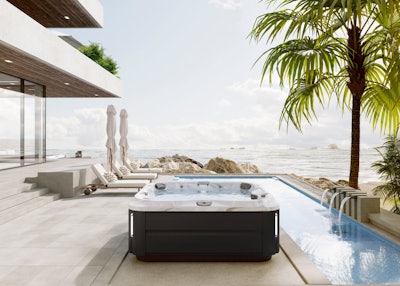 Nikki Freedman
Jacuzzi Group has selected global brand licensing agency, Beanstalk, to extend its brand into product categories that reinforce self-care and enhance the lifestyle, including bathroom and kitchen accessories, appliances and hardware; pools, cold plunges and specialty saunas; home comfort; outdoor living; massage, recovery and therapeutic products; and complementary goods and experiences in the growing wellness space.
The Jacuzzi brand licensing program will offer consumers new ways to transform and elevate their physical and mental wellbeing and living spaces. Beanstalk will leverage the unique Jacuzzi legacy as a therapeutic brand to deliver transformative solutions through an assortment of innovative lifestyle products and experiences, aside from the pool and spa chemicals and equipment categories already licensed.
The Beanstalk team will be at the KBIS Show in Las Vegas from January 31 through February 2 to meet with partners, dealers, wholesalers and prospective licensees in the kitchen, bath and outdoor spaces. To schedule a meeting to discuss licensing opportunities, contact Fernanda Coutinho at: fernanda.coutinho@beanstalk.com.
Dave Jackson, CEO of Jacuzzi Group, says, "We have been offering people pleasureful, joyful and essential wellbeing through our products for over 60 years. Through our new licensing program, we are excited to use the power of our iconic brand to bring forward even more new and innovative ways for people to be well."
Allison Ames, president and CEO of Beanstalk, says, "Beanstalk is honored to be partnering with the iconic Jacuzzi brand. Over the past several years, we've seen the growing importance of wellness in our daily lives. Consumers are deeply focused on their well-being. Jacuzzi enjoys a rich legacy in products that are not only beautifully designed but nurture the body and restore the mind. This is a wonderful platform to develop a licensing program that embodies the Jacuzzi experience through innovative brand extensions that continue to deliver on this compelling brand promise."