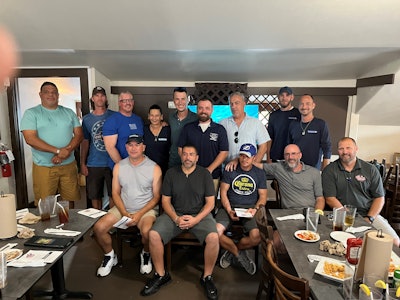 All Clear Pool Services & Supplies, a Palm Harbor, Fla.-based pool service company, has partnered with Pool Troopers, one of the nation's fastest-growing pool service companies. All Clear Pool Services & Supplies has been servicing northern Pinellas County since 2006.
"When it came time to transition All Clear Pool Services & Supplies to the next phase of growth, partnering with Pool Troopers was my first choice," says Todd Guarino, owner of All Clear Pool Services & Supplies. "My employees will be part of an organization that puts family first and provides opportunities for training and advancement. The Pool Troopers team has been a pleasure to work with, and I applaud their efforts on a seamless transition for our customers and employees."
"Todd has built a very successful company focused on personal relationships with his customers, and we are honored he chose Pool Troopers as a partner to continue the company's legacy. His team members have many years of experience, and we look forward to their leadership within Pool Troopers," says Mark Patton, CEO of Pool Troopers.
All Clear Pool Services & Supplies is the 13th acquisition that Pool Troopers has secured since December 2020. With the support of Shoreline Equity Partners, Pool Troopers is on a mission to partner with pool service companies across The Sunbelt Region. Pool Troopers was founded in 1952 and services nearly 20,000 pools throughout Texas, Florida, South Carolina, Georgia and Arizona.
For more information about partnerships and acquisitions, click here.