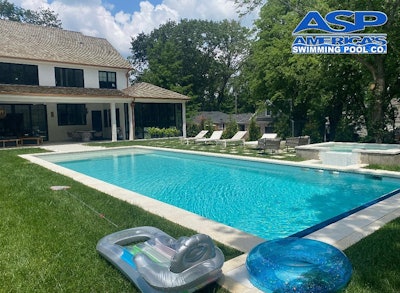 America's Swimming Pool Company (ASP) launched a new Construction Division and now has hundreds of franchised locations around the country that can offer the installation of inground concrete, vinyl and fiberglass pools, as well as luxury pools and outdoor features.
"ASP was built on providing valuable services our customers need to maintain and enjoy their swimming pool and protect the investment they have made in their property. As people have begun spending more time at home over these past several years, there is an increased desire to turn the backyard into an oasis. Now we can help homeowners with their pool installation needs as well, offering a complete suite of pool services," says Jimmie Meece, brand president of America's Swimming Pool Company.
ASP franchise owners find that construction and related services are major revenue opportunities for their businesses. This is in part thanks to the size and scope of these projects, as well as the frequency that consumers are requesting the service.
Shaun Hurley, ASP's director of renovation and construction, is definitely seeing the demand for not only inground pools and hot tubs but also outdoor kitchens, fireplaces and fire pits. "Our ASP locations that offer construction and renovation services are seeing requests for popular additions like strip lighting installation in pools, recessed firepits, water bowls and fire bowls," says Hurley. "Another popular trend is outdoor kitchens. I've been urging homeowners to think about a kitchen during their initial pool build because it's an option that most people end up realizing they want."
Since its inception in 2002, ASP has cemented itself as one of the largest swimming pool service businesses in the country, with over 360 franchise units across 26 states. Swimming pool owners nationwide trust ASP for its services — including maintenance, inspections, repairs, renovations and construction. To learn more about owning a pool franchise, visit https://www.aspfranchising.com/.