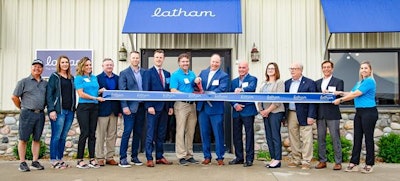 Globe Newswire
Latham Group, Inc. celebrated the grand opening the company's fiberglass manufacturing facility in Seminole, Okla., with members of Latham's management team and employees of the facility. Production of Latham's fiberglass pools in the Oklahoma facility began in the first quarter of fiscal 2023. The Oklahoma facility grand opening celebration comes only two weeks after the company's grand opening of its new fiberglass manufacturing facility, in Loyalist Township, Ontario, Canada, west of Kingston, the largest Latham facility in North America.
"We are thrilled to celebrate the opening of our fiberglass facility in Oklahoma with our dedicated employees," says Scott Rajeski, president, and chief executive officer of Latham. "Beginning production in our Oklahoma facility is an important step in our efforts to better service our existing dealers in the U.S. Southwest and South Central and to support the ramp up of dealer recruiting efforts in the market as we continue to drive material conversion from concrete to fiberglass pools."
"I'm thrilled to see companies like Latham Group expanding into our great state and our thriving manufacturing sector," says Kevin Stitt, governor of Oklahoma. "Latham Group is a premier manufacturing operation, and I'm proud of the hard work done to recruit this company and its new facility, and the jobs and opportunities Latham's facility will bring to Oklahomans."
"We are excited to introduce this new Latham facility, which will enable us to provide our signature, world-class fiberglass pool products to local homeowners and create job opportunities for residents of Seminole and the surrounding community," says Richard Parks, director of fiberglass operations, South Central U.S. "We cannot thank our local officials enough for their continued support for this project."