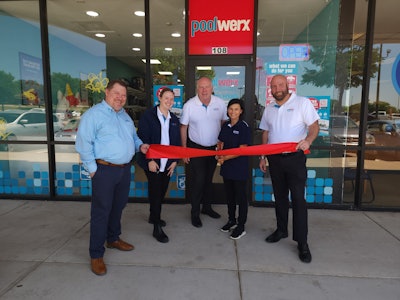 Poolwerx is a global pool retail and service franchise company and by diving into the U.S. market, Poolwerx has quickly become one of America's premier pool service and retail franchise. Now, Poolwerx is pleased to announce that two new Mansfield business owners have been added to the Poolwerx family in the Dallas-Fort Worth area. Located inside The Commons at Walnut Creek Shopping Center, Poolwerx Mansfield will serve its area with quality pool supplies and pool service. This new addition marks territory No. 353 in the Poolwerx network.
George and Amy Dupont, owners of Poolwerx Mansfield, have years of experience in entrepreneurship, consulting and business management. Working full-time as a 1st grade teacher, Amy has been known to start up side businesses, including a coffee shop. George has 14 years of experience managing in the oil and gas industry, as well as working as a business consultant.
"We started to pay attention to recession-proof businesses during the pandemic," says Amy Dupont. "Poolwerx really has the best model for franchise growth, so it made the most sense for us."
Poolwerx Mansfield hosted a ribbon-cutting ceremony on Friday, April 21, 2023, with face painting and popsicles to celebrate the new venture. They will be offering $20 off a $60 purchase throughout the month of April to celebrate the occasion. Their new store is located at 990 US Highway 287 Frontage Rd. unit 108, Mansfield TX 76063.
The newly expanded Poolwerx Mansfield comes with a pool supply retail store, as well as a certified repair, remodeling, cleaning and maintenance service to keep pools healthy all year round. Poolwerx experts can be reached by phone at (817) 228-6997 or by email at mansfield@poolwerx.com.