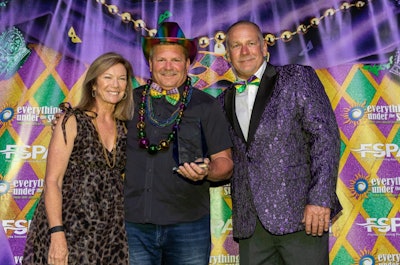 The Florida Swimming Pool Association (FSPA) has named Ben Evans the 2022 Person of the Year. Ben is president and owner of American Pools and Spas, current FSPA Executive Committee member and Board treasurer, and Florida Swims Foundation president. The award was presented at a special Welcome and Awards Reception on the eve of FSPA's 51st annual Everything Under the Sun Expo.
Each year, all FSPA Chapter presidents vote to select a "Person of the Year" based on the effort and effectiveness of the individual in providing the FSPA with leadership, commitment and service.
Ben has served on the FSPA Central Florida Chapter Board since 2015. In 2019, he was their chapter president. He was welcomed onto the State Board Executive Committee in 2020 and has served since. Ben joined the Commercial Council in 2019 and continues his involvement today.
In 2021, Ben became engaged as a Florida Swims Foundation Trustee. In 2022, he became the Florida Swims Foundation president. The same year, his company, American Pools and Spas, singularly donated $40,000 to the Florida Swims Foundation to be used to provide free swim lessons to underserved children across our state.
Ben also joined the Pool Industry Council Board of Directors in 2022. His leadership and exemplary service continues to drive the Florida Swimming Pool Association's mission forward in advancing the pool industry in the state of Florida.
"Ben exemplifies what it means to be a top-notch person and professional," says Don Ball, FSPA Board president. "His outstanding professionalism is matched only by his great character, and we are honored to recognize him for his hard work and effort within the pool and spa industry."
The Florida Swimming Pool Association is a trade association for the pool and spa industry in Florida. There are approximately 750 member businesses in 16 Chapters across the state. Members are required to abide by a code of ethics and to be properly licensed and insured. FSPA provides the industry with access to continuing education courses, information on current trends and issues, and an arbitration program and government relations representation. FSPA is governed by a Board of Directors.