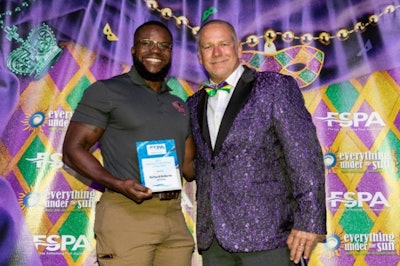 The Florida Swimming Pool Association (FSPA) honored 12 outstanding individuals and impactful companies within the pool and spa industry during the organization's annual Welcome and Awards Reception as part of the 51st annual Everything Under the Sun Expo.
The winners were decided by FSPA leadership and staff in acknowledgement of outstanding achievements and contributions to the organization and the pool profession as a whole over the past year.
Richard Roberts, Pool Troopers, in Tampa, Fla., was recognized as Tampa Bay Chapter Service Professional of the Year. Richard Roberts is a "dedicated team player and an overall passionate person," according to his chapter. He has also been described by customers as "professional, pleasant, knowledgeable, and very kind" in all aspects of service.
Southern Grouts and Mortars in Pompano Beach, Fla., was named Philanthropist of the Year. The company donated more than $20,000 toward swim lessons through the Florida Swims Foundation in 2022 alone.
Alex Fletcher, AquaWorx, in St. Petersburg, Fla., was recognized as Workforce Development Champion. Alex Fletcher helped organize the 2023 Building Code Task Force alongside FSPA leadership. He also volunteered his time to teach a continuing education course on FSPA's annual Sail Away Cruise last fall.
Greg Bowers, Pinch-A-Penny #30, in Orange Park, Fla., was recognized with the Advocacy Award. Greg Bowers is a membership advocate for FSPA and has been helpful with legislative meetings within his district. He has also led planning and implementation within his chapter to raise money for the Pool Industry Political Action Committee (PIPAC).
Tommy Diaz, 365 Pool Service, in Rockledge, Fla, was honored with the Rising Leader Award. Tommy Diaz is active in the FSPA Space Coast Chapter in regards to swim lessons and community work. He is a new FSPA Board member with a high level of committee engagement and has written multiple articles for PoolPro Magazine.
Ericka Villegas, Jason Draime, Inc., in Port St. Lucie, Fla., was recognized with the Community Service Award. Ericka Villegas is active in the FSPA Treasure Coast Chapter community with swim lesson advocacy. She also spearheaded her chapter in purchasing a full vehicle wrap for a local swim lesson provider.
Dino Muggeo, Dino's Pool Service & Repair, was honored with the Distinguished Service Award. Dino Muggeo is an outstanding volunteer throughout FSPA's many initiatives. At the annual Everything Under the Sun Expo, he volunteered in the Florida Swims Foundation booth and as an education course classroom monitor. He also participated in both the 2022 FSPA Invitational Swim Meet and the annual FSPA Sail Away Cruise.
Don Ball, The Pool Works of Florida, in Largo, Fla., was recognized with the Behind-The-Scenes Award. During 2022, in addition to serving as the 2022 FSPA Board vice president, Don was also part of the 2023 Building Code Task Force and a number of other committees both within and on behalf of FSPA.
Jonathan Mosher, Signet Pool, in Sarasota, Fla., was recognized with the Young Professional Award. Jonathan Mosher is an "active and eager member of both the Manasota Chapter and the state Board of Directors." He also serves as a liaison for the Young Professionals Council as they embark on their website/marketing rebranding project. He is now a State Board Executive Committee member.
Mermaid Lagoons of Bunnell, Fla., was honored as Member Company of the Year: Trade. Owner Holly Waldhauer is an active member of multiple FSPA Board committees and serves as chair for the Trade Show Committee. She also donated her time and talents to create the beautiful FSPA tiled mural that hangs in the organization's Technical Education Center.
AquaCal AutoPilot of St. Petersburg, Fla., was recognized as Supplier Member Company of the Year. The company pledged to donate $2.22 per heat pump manufactured to the Florida Swims Foundation's swim lessons programs. That pledge amounted to $40,000+ in 2022 alone.
Team Horner, based in Fort Lauderdale, Fla., was announced as Partner of the Year. The organization provides incredible support of FSPA membership, the annual trade show, the Florida Swims Foundation, and PIPAC. Team Horner is an educational partner with FSPA through teaching of the FSPA's Florida Public Pool Specialist (FPPS) course, and maintains an active company representative within each FSPA geographical chapter.
"Each of these individuals and companies represent the best of what this industry has to offer," says Elizabeth McMurray, FSPA executive director. "Dedication, perseverance, humility, and most of all, generosity of both tangible and intangible assets. I am constantly inspired by these professionals and their hard work and dedication to our industry."
The Florida Swimming Pool Association is a trade association for the pool and spa industry in Florida. There are approximately 750 member businesses in 16 Chapters across the state. Members are required to abide by a code of ethics and to be properly licensed and insured. FSPA provides the industry with access to continuing education courses, information on current trends and issues, and an arbitration program and government relations representation. FSPA is governed by a Board of Directors.