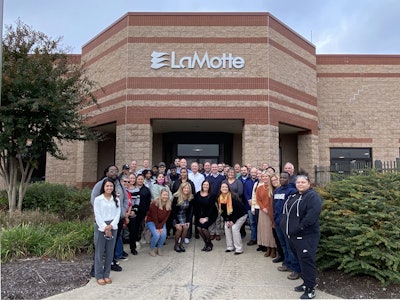 LaMotte Company, a leading producer of water-quality testing instrumentation and reagents, has opened a new facility in Newark, Del.
LaMotte's expansion to Delaware was prompted by significant sales growth. The 79,000-square-foot plant was specifically designed to include the latest in world-class manufacturing technologies and techniques with room for future growth.
The new site increases LaMotte's production capacity for its SpinDisk and Test Strip product lines. LaMotte's Research & Development capabilities also are expanded with the addition of a 6,000-square-foot R&D lab.
Production and support staff have been hired and trained to begin operations. LaMotte will continue to hire additional staff for both its Newark and Chestertown facilities.
"This location is highly valuable for us given the skilled and educated local workforce and its proximity to global shipping hubs," says LaMotte President and CEO Scott Amsbaugh. "It is critical in our capacity expansion to meet our customers' growing demands for LaMotte's products."