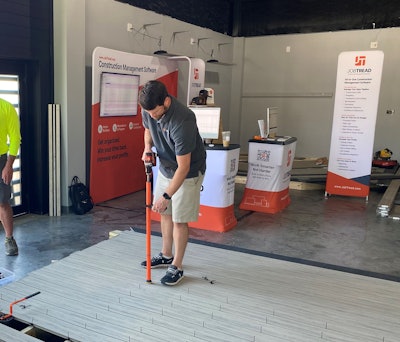 Deckorators, a brand of UFP Industries, Inc. (Nasdaq: UFPI), has partnered with JobTread Software to provide their contractor program best-in-class business management support. This partnership demonstrates Deckorators' continued commitment to supporting and growing its team of Certified Pros.
With JobTread, Certified Pros will gain seamless access to Deckorators' full product catalog along with pre-configured best practices, templates, and project management tools designed for, and by, deck builders.
Deckorators selected key brand ambassadors to collaborate with JobTread to optimize the management of a deck building business. These insights make the platform uniquely tailored to the outdoor living and deck building markets which rely heavily on economic forecasting and agile responsiveness for success.
"Our goal is to develop a world-class program to help our Deckorators Certified Pros grow their business," says Nick Larr, Deckorators national contractor development manager. "Job Tread's product is an end-to-end business management software complete with estimating, job costing, invoicing, scheduling, and a CRM that fits perfectly with our goals for the contractor program."
Supported by a culture of partnership and family, Deckorators has a growing roster of Certified Pros across the U.S. and Canada. The program features detailed training, workshops, lead generation, marketing collaboration, and Certified Pro Spotlights that live on the Deckorators website.
Deckorators Certified Pros can:
Gain access to Deckorators' product catalog and proven project management templates
Increase sales with more professional proposals and faster response times
Upsell additional products by providing customers with optional selections and upgrades
Accurately price jobs and manage costs to enhance profit margins
Deliver improved customer experiences through the use of a customer portal for communications, eSignatures, scheduling, online payments, and file and photo sharing
Deckorators Certified Pros receive a discount on their JobTread subscription . For more information on the Deckorators Certified Pro contractor program, visit pro.deckorators.com and follow Deckorators on Pinterest, Facebook and Instagram. Contractors can sign up to become a Certified Pro at www.deckorators.com/certified.