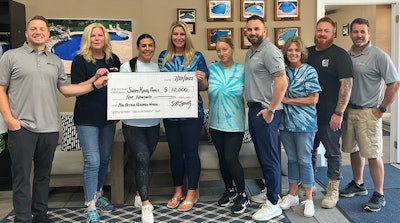 S.R.Smith, now part of the Fluidra family of brands, is proud to announce their newest Pool Better Rewards program winner, Swim King Pools of Rocky Point, N.Y. S.R.Smith sales representative James Preece is pictured here, presenting Swim King Pools with the prize money in person.
"We have been using S.R.Smith since I can remember and haven't stopped," says Koleen Rodecker, office manager and purchasing manager at Swim King Pools. "My dad started Swim Kings back in 1974, and we have used S.R.Smith on the pools we build since then. We have always used [their] diving boards and stands, rails...our customers love the more modern rails [they] have...we only buy S.R.Smith slides and just installed a custom landscape slide last week. And we love [their] lights...the Mod-Lite has been very popular, we put a lot of those in. We like how [they] package [their] lights and transformers together so we know our guys are getting everything in one package for easy installs."
The Pool Better Rewards program, first introduced at the 2022 Pool and Spa Show, is S.R.Smith's trade-exclusive loyalty program providing customers with the chance to win $10,000 in a drawing at the end of each quarter. The program is simple. Each product registered at srsmith.com/PoolBetterRewards is worth one entry into the $10,000 drawing each quarter. The next winner will be drawn in September 2022.
For more information about The Pool Better Rewards program or the company's portfolio of residential and commercial pool equipment, click here, contact S.R.Smith at (800) 824-4387 or email customercare@srsmith.com.