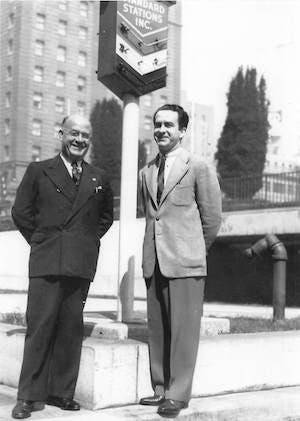 Andrew Pansini Sr., the author's grandfather, and Andrew Pansini Jr., the author's father.This past summer I had the privilege of editing a book about one of the industry's true pioneers. It's called "Fathers of Invention: An American Story of Faith, Family and Innovation" by Andrew A. Pansini, former CEO of Jandy. 
The story focuses mostly on Pansini's dad, Andrew L. Pansini, the founder of Jandy known for inventing the automatic pool cleaner, bringing the Jandy Valve to the market and revolutionizing automatic control systems, among other accomplishments.
The story opens with the Pansini family's first great achievement: The creation of paid parking lots by Andrew L. Pansini Sr., the author's grandfather, in early 20th century Los Angeles. Years later, in an epiphany that would revolutionize the swimming pool industry, Pansini Jr. is inspired to create the first automatic pool cleaner after watching a hose fall in his family's pool and accidentally push leaves toward the main drain. 
The book offers keen insight into the formative years of the pool and spa industry, a narrative that features other industry pioneers including Howard Arneson, the Jacuzzi brothers and Vance Gillette, among others. Along the way we get a taste of the trials and tribulations of an immigrant family that is both steeped in its Catholic faith and driven by inventive ambition.
I'm proud of the work I did on this book and enjoyed working with "Andy" Pansini. There's an earnest and even unabashed tone that flows through the text as Pansini pulls back the curtain on his family's history and tremendous success.  
Pansini will be selling and signing copies of the book at this year's Pool Industry Expo in Monterey, Calif., September 28 to 30. Proceeds from sales at the show will be donated to the National Drowning Prevention Alliance. To learn more or purchase a copy of the book, check out click here.