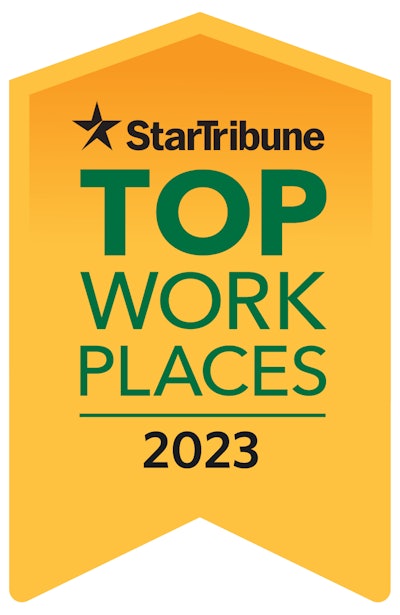 King Technology, Inc. has been named one of the Top Workplaces in Minnesota by the Star Tribune. A complete list of workplaces selected is available at startribune.com and was also published in the Star Tribune Top Workplaces special section in June.
Produced by the same team that compiles the 32-year-old Star Tribune 100 report of the best-performing public companies in Minnesota, Top Workplaces recognizes the most progressive companies in Minnesota based on employee opinions measuring engagement, organizational health and satisfaction. The analysis included responses from 124,719 employees at Minnesota public, private and nonprofit organizations.
The results of the Star Tribune Top Workplaces are based on survey information collected by Energage, an independent company specializing in employee engagement and retention.
"We are thrilled to have been named a National Top Workplace, and we owe this achievement to our incredible employees," says Randy Roseth, King Technology president. "Their dedication and passion for our mission is what makes our organization great, and we are proud to have them on our team."
Star Tribune CEO and Publisher Steve Grove says, "The companies in the Star Tribune Top Workplaces deserve high praise for creating the very best work environments in the state of Minnesota. My congratulations to each of these exceptional companies."
"Being named a National Top Workplace is a great accomplishment, and we are thrilled to have received this recognition," says Desiree Church, chief human resources officer. "Our employees are the heart and soul of our organization, and we are truly grateful for their commitment to our vision and values."
King Technology makes water care products that are easy to use and take the stress and mess out of water care. King Technology creates and manufactures innovative, smart products and systems to sanitize pools and hot tubs. Their unique technologies and products are market leaders, proven to keep water clean and crystal clear. They deliver something both unique and special — Fresh Mineral Water in every pool and hot tub.
What King Technology really does, however, is Enrich Lives Daily, providing possibilities for people's lifestyles and for growing careers.
To qualify for the Star Tribune Top Workplaces, a company must have more than 50 employees in Minnesota. Over 5,000 companies were invited to participate. Rankings were composite scores calculated purely on the basis of employee responses.
For more information, please contact Desiree Church at (612) 271-6520 or [email protected].