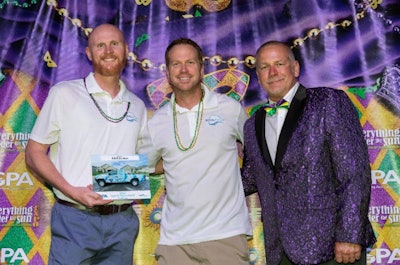 The Florida Swimming Pool Association (FSPA) recognized two Tops-in-Trucks winners during the 51st annual Everything Under the Sun Expo.
The Tops-in-Trucks award program recognizes outstanding fleet vehicle graphics and excellent modifications of service and repair trucks. In addition, these awards are designed to encourage others to follow great examples that can increase brand recognition, work efficiency, and positively affect sales and the image of pool professionals.
POOLfection of Wesley Chapel, Fla., took home the Tops-in-Trucks — Small Fleet Award. Master Touch Pool Service of Coral Springs, Fla., took home the Tops-inTrucks — Large Fleet Award. Entries were judged on overall graphic appeal, legibility of contact information, creativity, and good organization of design elements.
"Our association focuses on advancement in all areas of our industry businesses," says Don Ball, FSPA Board president. "We honor different vehicle fleets each year as another way to extend the reach of their businesses through marketing achievements."
The Florida Swimming Pool Association is a trade association for the pool and spa industry in Florida. There are approximately 750 member businesses in 16 Chapters across the state. Members are required to abide by a code of ethics and to be properly licensed and insured. FSPA provides the industry with access to continuing education courses, information on current trends and issues, and an arbitration program and government relations representation. FSPA is governed by a Board of Directors.