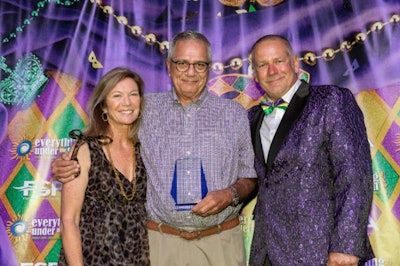 The newest inductees into the Florida Swimming Pool Association's (FSPA) Hall of Fame are Rick Myers of Team Horner and Rob Sanger of Galaxy Pools. The honor was bestowed upon the pair in front of a standing-room only crowd at the Welcome and Awards Reception on the eve of FSPA's 51st annual Everything Under the Sun Expo.
The FSPA Hall of Fame recognition is presented to industry professionals who have demonstrated their dedication to the organization over a period of 10 years or more. During their tenure, inductees provide exemplary service, go above and beyond the call of duty and serve as role models for future leaders.
Rick Myers has been employed in the swimming pool industry since 1982 and is currently the national sales manager of Lo-Chlor, a division of Team Horner. He has been active in FSPA since 2001, starting at the local chapter level and later joining at the state Board in 2007. He has served five terms as the Broward Chapter president and has served on a number of seated councils on the state Board including the Commercial Council, Service Council, Safety Council, Energy Council and more.
Rob Sanger has been employed in the swimming pool industry since the late 1970s and is the owner and president of Galaxy Pools, which has been in business since the 1980s. He has spent more than 20 years volunteering at his local Manasota Chapter, including serving as Chapter president. He joined the state Board in 2008, where he has served as Board president and executive committee member. He has been a member of numerous FSPA committees and councils including Service Council, Builders Council, Commercial Council, and the Pool Industry Political Action Committee (PIPAC) Committee, Building Code Task Force. He was also awarded Person of the Year in 2014.
In their clear devotion to FSPA, both Rick Myers and Rob Sanger are active instructors amongst FSPA's continuing education offerings. Rick is a certified instructor for the FSPA Florida Public Pool Specialist (FPPS) 16-hour course. Rob is a Commercial Industry Licensing Board (CILB) Certified continuing education instructor and has taught several courses to industry members.
"Both Rick and Rob epitomize dedication to our association," says Elizabeth McMurray, FSPA executive director. "They both have incredible spirit when it comes to FSPA and are clearly devoted to serving through any means necessary, from teaching continuing education courses to providing guidance and mentorship at both the local and state levels. Their impacts on the pool and spa industry in Florida and beyond are indelible."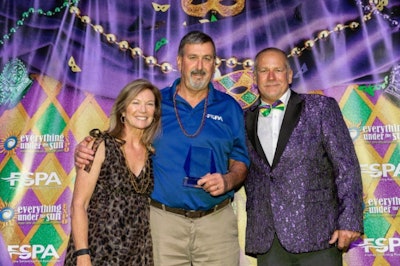 The Florida Swimming Pool Association is a trade association for the pool and spa industry in Florida. There are approximately 750 member businesses in 16 Chapters across the state. Members are required to abide by a code of ethics and to be properly licensed and insured. FSPA provides the industry with access to continuing education courses, information on current trends and issues, and an arbitration program and government relations representation. FSPA is governed by a Board of Directors.