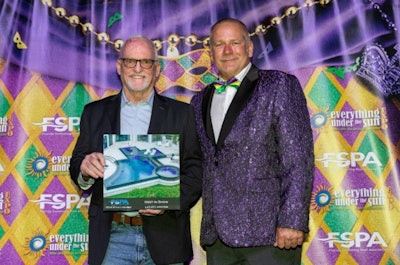 The Florida Swimming Pool Association (FSPA) recognized 13 companies who received more than 25 Awards of Excellence in the organization's annual Design Awards competition. The winners were announced during the 51st annual Everything Under the Sun Expo.
The annual FSPA Design Awards program gives FSPA members an opportunity to enter their pools, spas and water features for judging on workmanship, soundness of design, beauty, practicality and safety. Categories customized for Florida pool construction divide the entries by size, type of construction and features. Winners were selected by the Design Awards Committee, a volunteer group of decorated professionals in the pool and spa industry.
Lucas Lagoons of the Manasota Chapter won Best in Show for their aesthetically astounding pool paradise. The group garnered a total of 10 awards, including four Gold Awards.
Other winners included Ike's Carter Pool Companies from the Broward Chapter, which garnered five awards including a Gold Award and Technical Achievement. Best Pools of Brevard from the Space Coast Chapter won the "Salt Life" Award for their unique Florida-shaped pool.
In addition to pool and spa design, the organization recognized the Tops in Trucks, recognition for fleet graphics in the pool industry. POOLfection of the Tampa Bay Chapter was the Small Fleet Winner and Master Touch Pool Services of the Palm Beach Chapter was the Large Fleet Winner.
"The FSPA's annual Design Awards recognizes the excellent craftsmanship, engineering feats, innovative use of technology, and outstanding quality within Florida's pool and spa industry," says Elizabeth McMurray, FSPA executive director. "This year's winners represent just a small portion of the incredible pools, spas and water features that builders and their teams are crafting every day around our state."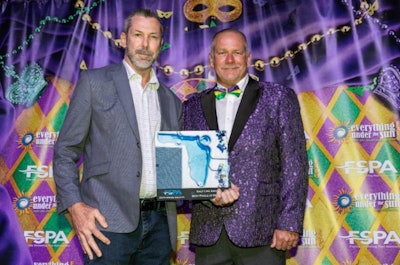 A full list of winners is detailed below. Pictures are available upon request; e-mail alyssa@floridapoolpro.com.
Almar Jackson Pools, Inc. – Tequesta, Fla. (Palm Beach Chapter)
Gold Award – Residential Pool 501 square feet and over
AquaTech Pools GC – Nokomis, Fla. (Manasota Chapter)
Bronze Award – Residential Pool 250 to 500 square feet
Gold Award – Residential Pool 250 to 500 square feet
Best Pools of Brevard – Melbourne, Fla. (Space Coast Chapter)
"Salt Life" Award
CM Custom Pools Design – Ormond Beach, Fla. (East Central Florida Chapter)
Gold Award – Residential Pool Restoration
East Coast Pools & Spas – Ormond Beach, Fla. (East Central Florida Chapter)
Silver Award – Residential Pool Vanishing Edge
Ike's Carter Pool Companies – Oakland Park, Fla. (Broward Chapter)
Bronze Award – Residential Pool 501 square feet and over
Silver Award – Residential Pool 501 square feet and over
Gold Award – Residential Pool 501 square feet and over
Technical Award – Residential Pool Vanishing Edge
Bronze Award – Residential Pool Vanishing Edge
Indigo Pool Patio BBQ – Venice, Fla. (Charlotte Harbor Chapter)
Bronze Award — Residential Pool 501 square feet and over
Lucas Lagoons – Sarasota, Fla. (Manasota Chapter)
Best In Show
Silver Award – Residential Pool 501 square feet and over
Silver Award – Residential Pool 501 square feet and over
Gold Award – Residential Pool 501 square feet and over
Gold Award – Residential Pool 501 square feet and over
Silver Award – Residential Spa
Gold Award – Residential Spa
Bronze Award – Residential Water Feature
Silver Award – Residential Water Feature
Gold Award – Residential Water Feature
Master Touch Pool Service – Coral Springs, Fla. (Palm Beach Chapter)
Tops-in-Trucks Award – Large Fleet
Nautilus Pools – Port Charlotte, Fla. (Charlotte Harbor Chapter)
Gold Award – Residential Pool Vanishing Edge
POOLfection – Wesley Chapel, Fla. (Tampa Bay Chapter)
Tops-in-Trucks Award – Small Fleet
Poolwerx Beaches – Jacksonville, Fla. (Northeast Florida Chapter)
Gold Award – Residential Pool – Fiberglass
Trusted Pool and Spa LLC – Parrish, Fla. (Manasota Chapter)
Silver Award - Residential Pool 501 square feet and over