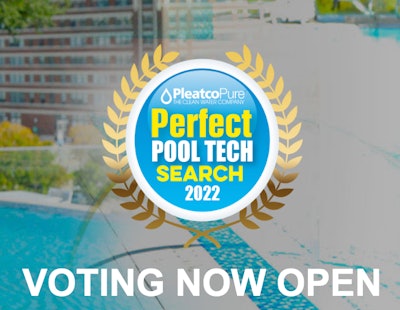 The nominations are in, and it's time to cast your vote for the 2022 Pleatco Perfect Pool Tech contest!
Each year, this contest recognizes and celebrates the best-of-the-best pool and spa service technicians in the industry. The top 20 nominees will be determined by public voting, which opened yesterday on September 21, 2022 and closes at 11:59 p.m. on September 28.
All nominations will be published on pleatco.com, and anyone is eligible to vote online. One vote per valid email is allowed. Nominees are encouraged to canvass for votes!
A panel of judges chosen by the sponsors will select six finalists from the top 20 nominees. The judges will then determine category winners and the 2022 Pool Guy and Pool Gal. Category Awards include: Big Heart, Lifetime Achievement, Young Leader and Customer Service.
The contest winners will be announced in November 2022, with an Awards Ceremony to be held at the 2022 International Pool | Spa | Patio Expo (Las Vegas, Nev.) in the Pleatco booth.
For additional information about the contest, click here.