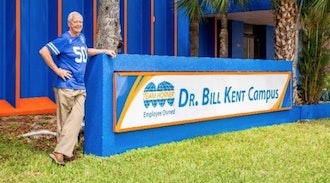 On Monday, April 15, 2019, the Team Horner Group, an integrated manufacturer, wholesale distributor and global exporter of swimming pool equipment and supplies, celebrated worldwide in honor of 50 years in business.
It all started back in 1969 by Earl Horner with three employees and one warehouse. In 1972, Dr. Bill Kent bought into the company and became sole owner a year later. Now, there are nearly 500 employees in 19 locations and customers in over 110 countries. This is quite an accomplishment for Dr. Bill Kent, current CEO of Team Horner Group, who sold the company to the employees in 2016.
On April 15, friends, family and Team Horner employees gathered to celebrate this incredible milestone and the renaming of the Fort Lauderdale Campus to be the Dr. Bill Kent Campus. There was food, smiles and even an authentic 1969 ice cream truck, which was brought in from New York specifically for Bill and Mike Dooley, the president and COO of the Team Horner Group.
The 50th anniversary was also recognized by the City of Fort Lauderdale, which proclaimed April 15 as Dr. Bill Kent and Team Horner Day. Many congratulations are in order for the Team and, as Bill proudly says, "The Best is Yet to Come!"