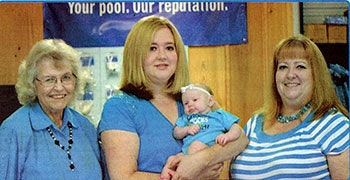 Berry Family Pools of Longview, Texas, is celebrating 40 years of business this year. The company was founded in 1978 by Clyde Berry and his wife Maryann.
"Daddy always said that it takes so many dollars to get the customer in here, and it only takes one wrong step to lose them," says Sheila Berry Satterwhite, general manager and daughter of Clyde and Maryann.
According to Berry Satterwhite, good customer service has kept people coming back, with third and fourth generations coming in for pools of their own.
"They feel like we have their best interest at heart," Berry Satterwhite says. "We try to get them what they want and help show them how to make it last."
Like its customer base, Berry Family Pools is a multi-generational affair. Matriarch Maryann, now 82 years old, still works behind the counter. Berry Satterwhite's granddaughter regularly spends time at the store before going to daycare.
"It's a big store, but it looks like a nursery in the corner," Berry Satterwhite says with a laugh. "I tell people we start 'em early here."