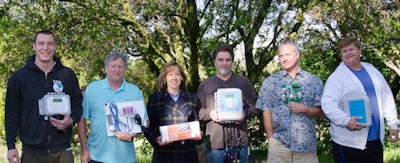 ControlOMatic is pleased to announce its 10th anniversary in the swimming pool and spa industry, providing innovative, patented, plug-n-play saltwater systems for spa chlorination as well as a complete line of chemicals controllers for residential and commercial swimming pools.
The founder of ControlOMatic, Scott Lenney, has actually been in the industry since 1989 when he first founded Acu-Trol which he later sold to Pentair Commercial Aquatics in 2006. Mr. Lenney went on to establish ControlOmatic because of his entrepreneurial vision to create and provide affordable, easy-to-use, saltwater chlorinators for hot tubs. Then after much encouragement, he decided to also create a new generation of swimming pool chemical automation, including affordable free chlorine measurement capability for commercial swimming pools.
"It's wonderful to be a part of the swimming pool and spa industry," says Lenney. "We are grateful for the support and success of our products and pleased to know we are supporting this ever-expanding market."
To learn more about the company and its latest products, go to www.controlomatic.com and www.poolwardentraining.com.