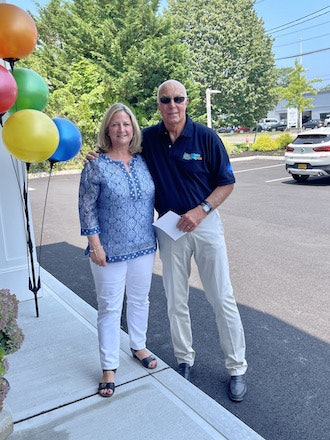 Ocean Spray Hot Tubs and Saunas celebrated its 40th Anniversary as a Long Island, N.Y., provider of Hot Springs Spas, Endless Pool Fitness Systems, Pool Services and Finnleo Saunas.
"This celebration was not just about us being in business for four decades, but to thank the community for supporting us," says owner Joe Musnicki.
The party was held on Saturday, July 17, featuring two food trucks, ice cream treats served by Dariland, a mermaid stilt walker and a hot tub turned into a beverage cooler. Long Island's My Country 96.1 radio personality, known as Phathead, and WBAB's Roger, from the Roger and JP Morning Show, both had a presence, with live giveaways and call-ins to their radio stations.
The event was planned as a chance to thank not just the community but also the company's longtime customers, trade partners and employees.
"Many of the owners of pool companies on the east end got their start here at Ocean Spray, and we are all still great friends," says Musnicki.
Business owners aren't the only ones to get their feet wet with Ocean Spray: Several employees have been with the company for decades.
"We've had some people we've worked with for 35-plus years! When you work with Ocean Spray, you become part of our family," says Musnicki.
"This [40 years] is a milestone that so few reach, especially in a market like Long Island," says sales manager Meredith Volpe. "[It's] all through hard work, determination and true customer service. Joe still does business on a gentleman's handshake. He gives back to the community and he is a great person to work for."