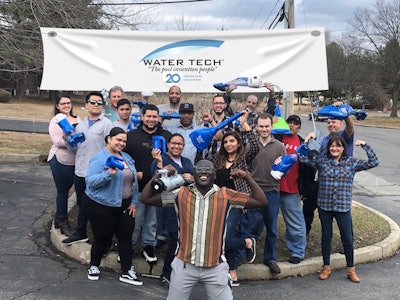 Water Tech Corp, manufacturer of the original Pool Blaster, Volt and Precision battery powered pool cleaners is celebrating its 20th year in business this season. Guy Erlich founded Water Tech Corporation in 2001 in an apartment building in New York City and has helped the company find success in the competitive pool and spa cleaner arena ever since. The company now operates out of a large facility in E. Brunswick, New Jersey with more than 20,000 sq. ft. of space.
A focus on using patented technology for its products has always been central to Water Tech's business plan. With 19 different U.S. patents on pool and spa cleaners alone and more to come, Water Tech has been able to use its intellectual property and unique product designs to systematically ensure its success in the marketplace. In fact, between 2005 and the present date, Water Tech has received the "Pool & Spa News & Readers' Choice Award" for "Best New Product" approximately seven times.
"We are so grateful to our customers who have come to rely on us to provide the products they need for cleaning swimming pools and spas," says Guy Erlich, CEO and founder of Water Tech Corporation. "Our customer service, reliable delivery, warranty and product support, in addition to our innovative products, are all part of the reason that our company has grown and become so successful over these past 20 years."
Water Tech initially became best known for its Pool Blaster line of battery powered pool cleaners for individual use and quickly developed a line of commercial grade, hand-held battery powered cleaners for service professionals.
"We were granted our first patent in 2004 for the Pool Blaster cleaner," says Erlich. "The key to our success has been to focus on innovative product design that is unique and always patented. All our product designs are thoroughly tested and validated before bringing the products to market, allowing us to stand behind our products with superior warranty and repair support."
Water Tech products are now available in countries around the world and hundreds of retailers in North America. The company celebrated its 20th year anniversary with a company party in its offices to kick off a year-long celebration.
"With the surge in demand and the pandemic still looming, we are planning to continue our celebration throughout the remainder of 2021 with customers in the field and with the greater industry this coming fall at our industry trade shows," says Erlich.