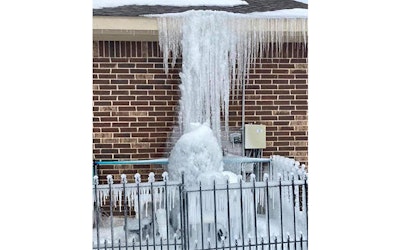 Normally in February, below the frost line in Texas, many pools aren't winterized. If they get a rare hard frost, they can just keep the water running for a few days until the weather moderates. You could always count on the power in Texas — until this week.
Early Monday morning, a sudden, unprecedented deep freeze knocked out the pumping infrastructure on Texas' natural gas utilities, leaving millions of Texans in darkness and at the same time, calming the rippling surfaces of pools and spas across the state to a smooth, glassy mirror.
Without steady flow to protect them, and temperatures plunging toward zero as far south as San Antonio, icy fingers curled around unprotected pipes and pumps and filter casings all across the state.
"On Monday, we started getting blackouts. People woke up that morning with temperatures in the single digits, already without power for four to five hours, and most of them, their equipment was already frozen solid," says Frank Disher, owner of Poolwerx North Richland Hills, Texas.
"I fielded 100 to 120 phone calls on Monday — while I'm already in backyards, because my staff could not make it into work due to the harsh weather conditions. I was even FaceTiming customers, trying to walk them through a problem."
Scenes like this one were commonplace across the state, as the uncontainable force of molecular expansion due to freezing snapped sections of PVC like dry branches.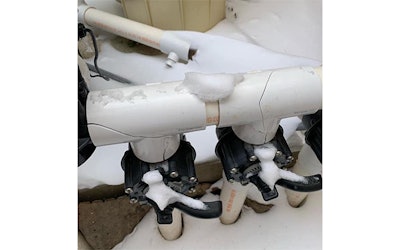 Many service professionals shared similar catastrophes: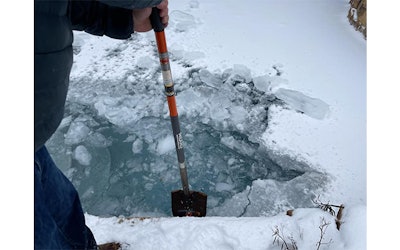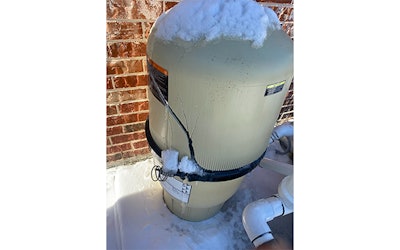 "If I had to guess, I would say there are 10 to 20,000 equipment sets that are frozen solid," says Disher. "And in places with broken plumbing, that number is probably double, triple that amount."
Fisher even experienced the crisis first hand on his own pool, while he was serving others. "While I was working on my customers' pools on Monday, my own power went out, and when I got home, my equipment was frozen solid," he says.
It's too early to assess the exact amount of destruction — that will take weeks — but just based on anecdotal evidence and logic, the pool and spa carnage and ruin could be on a scale comparable to Katrina and Harvey.
Those pool and spa disasters took place during a normal economy, however. At the moment, the industry is enduring the worst supply problems in its history. Orders of pool equipment of nearly all types face back-orders and lengthy wait-times.
"I am very worried about supply problems. I just received my 'early buy' shipment from my manufacturer, and I was hoping that would last me through May," says Disher. "So now, a large amount of this equipment will need to get replaced, which means tapping into that inventory I had set aside for my 2021 season, which was already in short supply."
With many customers now in need of a new pump, it does give Disher a chance to speak with them about the new Department of Energy regulations, a small silver-lining amid the chaos. "I'm going to go ahead and bring customers into that conversation, and, if they're willing, go ahead and bring them up to code with a new variable-speed pump. They're going to be better off for it," says Disher.
But with only around 15 variable-speed pumps in stock, he expects to be out of inventory in just one week's time.
A HELPING HAND
The industry is leaning on each other amid the chaos, many flocking to industry-focused social media groups for advice and some additional hands. "Any good repair guys want to come help us out in Texas?" said one Facebook user. "Looking to hire two more full-time pool cleaners in North, Texas. Hiring immediately," posted another.
Others are calling companies in the North to confirm proper winterizing strategies, a skill service pros in Texas are simply not familiar with. "If you don't know what to do, you need to reach out to companies that live through this weather every year," advises Heather Linton, president of Swim Carefree (Carrollton, Texas), "which is exactly what we did to make sure we were doing the best for our clients. We already knew, but we wanted to confirm."
"I've never done this before," says Disher. "We don't even have antifreeze down here, and I'll bet there is nobody within a hundred miles of us that stocks it. We're trying to save the big ticket items and help people as much as we can."
"The hardest part is that clients are simply in panic mode," says Linton. She says she is already thinking about her customers who cannot afford this unexpected cost, and plans to offer layaway to long-term customers who need it, as well as lean on the company's financial partner. "It's all about helping these families right now."