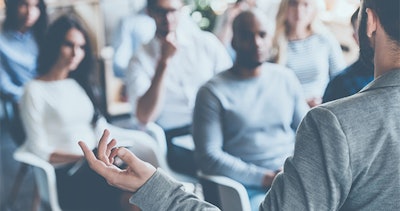 The Pool & Hot Tub Alliance — formed by the merger of the Association of Pool & Spa Professionals and the National Swimming Pool Foundation last spring — continues to evolve as part of its ongoing unification efforts. Adding new membership categories for instructors and students is one of the latest moves by PHTA, which aims to increase overall membership by 5% in 2020.
Legacy NSPF had more than 1,000 instructors, many of whom were not members. "We wanted to address the needs of the instructors by creating a membership category to properly recognize their place in the industry," says Seth Ewing, senior director of membership and client services for PHTA. Meanwhile, a membership category for students was created to reach those interested in a career in the aquatics industry, he said.
Both categories became available Nov. 1, 2019. As of Jan. 1, 359 instructors had become PHTA members, making it the third largest membership category after service companies (674) and builders (1,666). Additional categories include manufacturers and distributors (317), retailers (307) and other (236). "Other" comprises pool managers, commercial facilities, allied suppliers, affiliates, associates and retirees. Total PHTA membership stands at 3,559.
RELATED: Sabeena Hickman Shares PHTA's Strategic Process
PHTA aims to grow its membership by 5% this year, Ewing says. To help reach that goal, the alliance is looking to create new tools, resources and educational opportunities based on member feedback. For example, one benefit for new instructor members is the ability to expand their course offerings. That's because legacy NSPF CPO instructors who become PHTA members now have the opportunity to teach PHTA certification courses, too.
Meanwhile, an industry-wide apprenticeship program is planned to launch this year, beginning with occupations in the service segment. This will have special appeal to PHTA's student members, as it's designed to be an educational and on-the-job training vehicle with pathways into the pool and spa industry. "Much of the industry's workforce is getting older and closer to retirement, and there is a need to recruit additional generations of skilled workers into the industry," says Jennifer Farwell, PHTA's director of the western office. "We are hopeful that our apprenticeship program will help to recruit, train and retain our future workforce."
"These are exciting times to join the PHTA," Ewing says. "Historic steps were taken in 2019 to unite the Association of Pool and Spa Professionals and the National Swimming Pool Foundation. With a unified voice, PHTA is focused on ensuring everyone's business success."