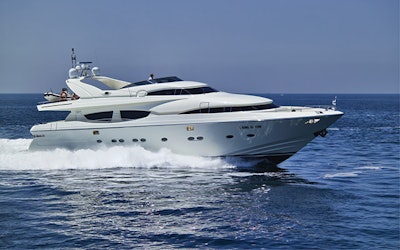 Any way you slice it, discretionary income in the U.S. is an enormous pie. According to the Bureau of Economic Analysis, the total disposable income in the U. S. reached an all-time high of 14345.40 USD billion in January.
That unfathomably huge number represents all the "non-essential" spending by U.S. consumers across a spectrum of activities, products and services. The category includes everything from tobacco and alcohol consumption to movie rentals, massages and professional sports, as well as vacation homes, pets and weddings.
Common sense tells us the pool and spa industry is not really competing with movie theaters, fine restaurants and cigar shops. We really go up against products that require thousands of dollars, such as RVs, boats and vacations.
In comparing ourselves to these other high-dollar discretionary sectors, it's easier to see our strengths and weaknesses and how we might improve the way we present ourselves to the purchasing public. For make no mistake, every person who produces more income than they spend in daily life makes a decision about what to do with their excess money. That crucial decision is based on product perception.
RVs ON A ROLL
By any measure, the RV industry is on fire. In 2016, RV sales totaled 430,961 units delivered — a whopping 15.1 percent increase over 2015, which itself was a record year. It was the sixth straight year of dramatic increases, a trend that looks almost certain to continue through 2017. The RV industry had a $50 billion economic impact in 2015, according to research commissioned by RVIA, providing more than 150,000 jobs and $7.9 billion in wages.
What's driving the current surge in RV popularity?
Industry advocates are quick to point out a list of benefits that in some respects echo messaging from the pool and spa industry. Again, according to the RVIA:
RVs support an active lifestyle. In a Harris Interactive survey of RV owners, respondents said that traveling in an RV brings them closer to nature, provides access to a range of outdoor activities and an opportunity enjoy to quality time with family.
"RVers reported stronger bonds with loved ones and benefits to children. RVers also cited healthier eating on the road, sleeping in their own beds and having their own bathroom facilities as advantages of RV travel," the survey says.
In 2014, a Vacation Cost Comparison prepared by PKF Consulting USA showed RV travel can save a family of four 27 to 62 percent on vacation costs, factoring in ownership costs and fuel. The study comparison concluded that more than 80 percent of RV owners believe their RV vacations cost less than other forms of travel.
RV ownership supports a variety of activities in addition to vacation travel, including tailgating, travel with pets, business travel, outdoor sports and a variety of other leisure activities. Ninety percent of RV owners take three or more mini-vacations each year, most of which are spent in nearby campgrounds. (There are more than 16,000 RV accessible campgrounds throughout the U.S.)
Industry proponents point to steady fuel prices, affordable financing and the growth in popularity of smaller, more eco-friendly RVs as trends supporting these strong numbers. There are currently 10 million RVs in use in the U.S. — which is roughly equal to the number of existing swimming pools — a 64 percent gain since 1980. With buyers 35 to 54 years old representing the largest segment of RV owners, the upward trend appears set to continue.
TRAVEL TIME
Vacations and travel represent the largest slice of the discretionary dollar pie, eclipsing money spent on boats, RVs and pools and spas.
According to the U.S. Travel Association, direct spending on leisure travel by domestic and international travelers totaled $650.8 billion in 2015. Spending on leisure travel generated $99.6 billion in tax revenue. Nearly four out of five domestic trips taken are for leisure purposes (79 percent). U.S. residents logged 1.7 billion person trips (a trip by one person via any mode of transportation) for leisure purposes in 2015.
According to the USTA, the top five leisure travel activities for U.S. domestic travelers in 2015 were visiting relatives, shopping, visiting friends, fine dining and beaches.
Information that further reveals the size, breadth, complexity and impact of the travel industry is seemingly as abundant as the numbers themselves. For example: A 2017 Travel Trend Report from Trekksoft counts approximately 67,000 businesses valued at $20 billion in the tour and activity space in the U.S. alone.
Among a number of other factors, the report also points out that an estimated 17 million U.S. travellers identify as "health and well-being" focused with 40 percent traveling regularly. Those travellers spend on average 130 percent more than those traveling for other reasons.
In what appears to support the growth in RV popularity, a recent AAA survey indicated more than one-third of Americans (35 percent) are planning to take a vacation of 50 miles or more away from home involving two or more immediate family members.
According to the survey, road trips account for 69 percent of family travel followed by trips to national parks (49 percent), theme parks (42 percent), vacations to international destinations (26 percent) and cruises (19 percent). Two thirds of AAA members say that spending quality time with family is the most important part of taking a family vacation.
Like many industries, the advent of digital technology is dramatically changing the way that travel is planned, booked and experienced. According to U.S. News and World Report, in 2017, innovative travel companies, apps and products will "change travel as we know it." From inventive tools that allow travelers to snap high-quality travel photos or map their trips with an artificial intelligence platform to evolving alternative accommodation platforms, the future appears flush with groundbreaking changes.
In another large trend, eco-friendly initiatives and sustainable travel look to gain in popularity, with the United Nations declaring 2017 the International Year of Sustainable Tourism. Traveling with fuel-efficient small trailers, for example, is catching on among eco-tourists.
Again, as we see with RVs, the decision to travel is primarily driven by the desire to spend time with family while having enjoyable and often new experiences — both themes common to the pool and spa industry.
BOATS ON THE GO
The boating and pool and spa industries have a lot in common. The demand for both is driven by a desire to be near or in water. Both industries feature products that range from a few thousand dollars into the many millions. Boats, pools and spas all require ongoing maintenance. Many categories in the two industries benefit from luxurious design and techy features. They require financing for a majority of owners and the decision to buy can take a long time to germinate.
Both key on the family experience factor as cornerstone messaging.
Boating may not be experiencing the dramatic upward curve seen in the RV industry, but industry efforts to promote the boating lifestyle, coupled with growing variety of boats at different price points, have continued to support steady market expansion.
According to the National Marine Manufacturers Association, annual U.S. retail sales of new boats, marine engines and marine accessories totaled $17.4 billion in 2015, an increase of 6.9 percent over 2014. They also report that Americans are taking to the water in greater numbers with 35.7 percent of the U.S. adult population — 87.3 million Americans — participating in recreational boating at least once in 2014.
There were an estimated 11.9 million registered boats in the U.S. in 2015. Boating is primarily a middle-class lifestyle as 71.5 percent of American boat owners have a household income less than $100,000. Boating also has a vibrant pre-owned market; there were an estimated 958,000 pre-owned boats (powerboats, personal watercraft and sailboats) sold in 2015, an increase of 1.9 percent.
That fact that 95 percent of powerboats sold in the U.S. are made in the U.S. is also often cited as a market driver.
For all those impressive figures, not all the news from the nation's docks and launch ramps is positive. The NMMA reports that for the first time in its history, 400,000 fewer people entered the boating market in the period between 2010 and '15, than between '05 and '10.
In response the NMMA has established Grow Boating, a program of industry resources that features research, promotional material, education, dealer networking and training, and Discover Boating, a consumer promotional program focused primarily on the boating lifestyle and experience. Discoverboating.com claims to be "the world's largest online guide recreational boating."
TAKEAWAYS
Exactly what to make of the relative success of these competing industries is tricky business. Hunches abound, but solid conclusions are few. We do see that in all cases, experience and family togetherness are the primary desires attracting consumers to these markets.
The RV and boating industries in particular would appear to offer models of how industry associations can work to support businesses and drive consumer demand. Each industry has been able to rebound from the recession on a wave of younger consumers and responsiveness to shifting demand.
How well the pool and spa industry continues to compete for its slice of the discretional income pie may likely depend on how it meets similarly challenging trends and issues.