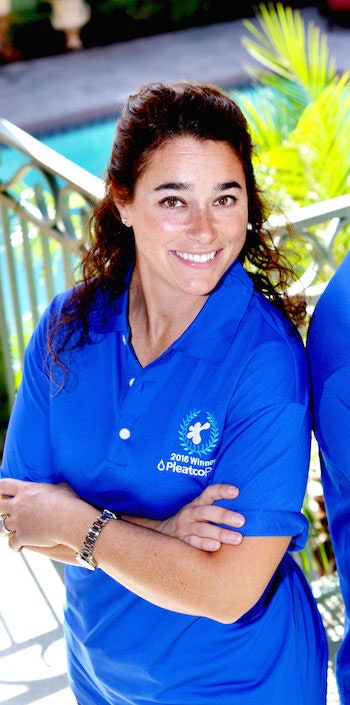 Nine years ago, Pleatco launched a contest to honor the men and women who elevate the service profession with superior technical prowess, excellent customer service skills and, above all, a love for the industry in which they work. Today, the Pleatco Perfect Pool Guy/Gal is one of the most coveted awards in the industry, drawing more than 100 applicants each year.
Today, we introduce the 2016 Pleatco Perfect Pool Gal; come back Tuesday to meet the Pleatco Perfect pool guy.
Before she got her start in the pool industry 10 years ago, Jennifer Del Vaglio already had quite a colorful career. She started out as a lifeguard, a position that offered an early glimpse of the pool industry, followed by time at Skip Barber Racing School and financial giant Deliotte and Touche.
While living in Connecticut, her then-boyfriend/now-husband C.J. Del Vaglio realized his dream of owning a pool business. The catch: The company he bought was based in Long Island, and he needed her help to get things running. Del Vaglio rose to the occasion, working by day at her corporate job and commuting to Long Island on weekends to help run the business. Not too long after, she joined C.J. at East End Pool King full time.
Today, Del Vaglio does everything from inventory and pool sales to managing the team and working in the field. Given her devotion to the business, quick mastery of the work and her special relationship with her customers, it's no wonder she was named this year's Pleatco Perfect Pool Gal.

You went from a corporate job to the pool industry. Were you nervous about making such a big change?
A little nervous? I was terrified!
I would have to say I did quite a lot of apprenticing under CJ, for sure, before I got to go out in the field on my own. So I definitely had extensive training, but to find yourself in front of all this equipment that you don't quite understand, with a test kit and a vacuum, was daunting for sure.
But while it was a little overwhelming at first, by the end of the season, you just kind of have it all under control and everything becomes much easier. You're like, "Wow, I really have this."

What do you enjoy most about the pool industry?
I feel like I get to give back to my customers, and I love building the relationships that I have with them. I feel like they're just an extended family for me, so it's nice because you feel like you're surrounded by all these people that love you.
The other thing that's nice is that we get to give back to the community through having the business. We've been able to sponsor little league teams for girls' softball or boys' baseball — we alternate years for the girls and boys — and we get to do things like Boy Scouts and Secret Santa and things like that

How did you feel when you were named the 2016 Pleatco Perfect Pool Gal?
It's super surreal, because you're not really doing anything more than you think anybody else would do, but I guess that's not really the case, because I put my heart and soul into every customer and into the business. It's nice to be recognized for sure.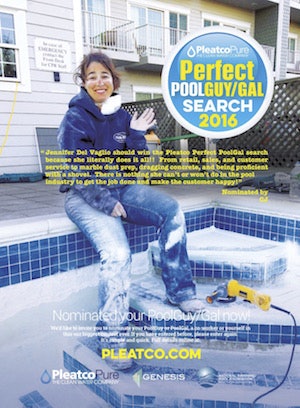 If you receive AQUA in the mail, you may have seen Del Vaglio already — she was featured on the back cover of the October issue in a Pleatco ad promoting the contest. She didn't know her husband, CJ, nominated her for the award until a subcontractor showed her this ad. (CJ quietly nominated her for two years — turns out the second time's the charm!)
Extra Congratulations
In addition to the two big awards, Pleatco honored five other service professionals with special awards.
2016 Outstanding Service Award
Erin Thibodeau, Pace Pool and Spa Service (Pace, Fla.)
2016 Backyard Hero Award
Todd Riddick, Sand Dollar Shores Pool & Spas (Nags Head, N.C.)
2016 Industry Leadership Award
Jason Lehmann, The Water Connection (Fort Worth, Texas)
2016 Lifetime Acheivement Award
Doug Hoerber, Discount Pool Supplies (Lantana, Fla.)
2016 Big Heart Award
Mark Howard, Poolwerx (Phoenix, Ariz.)